By Wilnard Bacelonia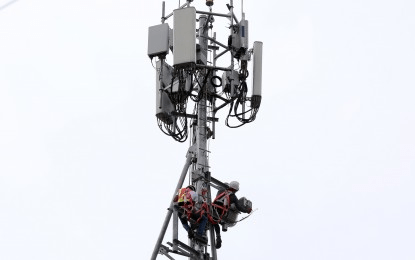 MANILA – Senate President Juan Miguel Zubiri is planning to ask Armed Forces of the Philippines (AFP) Chief of Staff Gen. Romeo Brawner Jr. to remove cell towers built by Chinese companies within Philippine military bases.
In an interview over Radyo 630 on Friday, Zubiri pointed out that the cell towers may have an impact on the national security.
"Alam mo meron pa mga telco towers na pagmamay-ari ng state-owned company ng China nasa loob ng military compound, sa military base, ito po [ay] nangyari (You know there are [telecommunication company] telco towers by state-owned company of China that is located inside our military compound, in a military abse, this happened) during the last administration," Zubiri said.
"Kaya ako po ay makikipag-meeting din po kay Gen. Brawner, ang ating AFP Chief-of-Staff na tanggalin na iyon dahil baka may CCTV doon, nakikita nila kapag lumalabas ang tropa ng kampo, patay na tayo 'di ba (That's why I will meet Gen. Brawner, our AFP Chief of Staff to ask him to remove that because it might have CCTV where they can see if troops are coming out of the camp, we're doomed, right)?" he added.
The AFP and the Mindanao Islamic Telephone Company (Mislatel) signed on September 2019 a memorandum of agreement allowing the new telco player to build its communications facilities in military camps and installations.
In the agreement, Mislatel "guarantees that the devices, equipment, and/or structures installed at the site provided by the AFP shall not be used to obtain classified information" as a measure to prevent electronic espionage.
The AFP will determine specific locations with its rental value for use of Mislatel in the installation and management of its communications sites without undermining the operations of affected military units.
Mislatel is also required to "furnish all equipment, labor, and materials necessary to effect the co-location of its facilities and shoulders all expenses in connection with or incidental to the co-location" and payment of all taxes, permits, licenses, and other charges.
The Mislatel consortium, which adopted the name Dito Telecommunity, is composed of Chelsea Logistics and Infrastructure Holdings Corp., Udenna Corp, and China Telecom.
Military training in China
Zubiri also plans to ask Brawner to recall all Philippine military officers training in China and send them instead to "friendly" countries.
"It can be Australia. It can be the United States. West Point. Pwedeng ipadala sa mga (They can be sent to) like-minded democracies. So, I think that's the most important at this point in time," the Senate President said, also citing other options like military academies in London or the European Union.
In a separate interview on Wednesday, Brawner confirmed that there are a number of AFP officers being sent to China since a memorandum of understanding on defense cooperation was signed in 2004.
In September 2004, former president and now Pampanga 2nd District Rep. Gloria Macapagal-Arroyo visited Beijing upon the invitation of then Chinese President Hu Jintao.
The two countries issued a joint press statement saying that expanded exchanges and dialogue in the military and security fields will strengthen the level of mutual political trust between Philippines and China.
They also agreed to study the possible establishment of the annual defense security consultation mechanism between the two countries' defense departments. (PNA)