By Stephanie Sevillano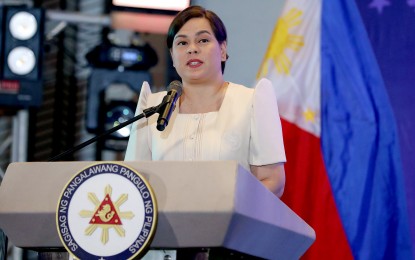 MANILA – Vice President and Education Secretary Sara Duterte on Monday reiterated that the weeklong transport strike poses a harmful effect on the country's recovery efforts to address learning gaps.
In a statement, Duterte underscored how the move is taking a toll on learners and teachers as operations of a significant volume of public utility jeepneys nationwide are halted.
"May I reiterate —the transport strike is a painful interference in our efforts to address the learning gaps and other woes in our education system," she said.
"We oppose it because it is problematic, it will hurt our learners, and the inconvenience that it may cause comes with an enormous price deleterious to learning recovery efforts —and this is a price that learners will have to pay," she added.
Duterte made the reiteration after the Alliance of Concerned Teachers (ACT)-Philippines and Pinagkaisang Samahan ng mga Tsuper at Operator Nationwide (PISTON) expressed objection over her weekend opposition statement on the transport strike.
The Department of Education (DepEd) also insisted it would not impose a suspension of classes nationwide.
"Magkaroon man ng tigil pasada, walang tigil sa pag-aaral ang mga kabataan (There may be halt to transport operations, we will not put the youth's education on hold)," she said.
The DepEd earlier said it will resort to alternative learning modes like the use of modules or online classes.
Statement of fact
Meanwhile, Duterte said she is not red-tagging the Alliance of Concerned Teachers (ACT)-Philippines and Pinagkalsang Samahan ng mga Tsuper at Operators Nationwide (PISTON) after calling the move "communist-inspired."
"Happily cavorting with PISTON and other militant organizations is ACT, a group that is diametrically nowhere near in the service of the interest of the learners and the education sector. This is not red-tagging. This is a statement of fact," she said.
Duterte added some members and leaders of the PISTON have already been influenced by the ideologies Communist Party of the Philippines (CPP), the National Democratic Front of the Philippines (NDF) and the New People's Army (NPA).

The two groups have earlier called out Duterte and expressed aversion over her "red-tagging" remarks against their groups.

On Sunday, Duterte slammed ACT for expressing support to the "pointless" weeklong transport strike.

"ACT supporting this transport strike, and shamelessly harping twisted justifications for it, only betrays its true colors — that it is a group that does not really serve the interest of students and teachers. ACT should know that a weeklong transport strike, at this critical point in our efforts to remedy learning losses, is a learning disruption," she said.
Meanwhile, transport groups called on President Ferdinand Marcos Jr. to suspend the implementation of the modernization program for public utility vehicles.
Earlier this week, over 40,000 drivers of public utility jeepneys and utility vehicles (UVs) committed to joining the weeklong strike to express opposition to the target phaseout of traditional jeepneys under the Public Utility Vehicle Modernization Program (PUVMP).
The Office of the Vice President said it added one bus in Valenzuela providing free rides.
To date, there are five other OVP buses offering free rides nationwide — two in Metro Manila, one in Davao, one in Bacolod and another in Cebu. (PNA)