By Joyce Ann L. Rocamora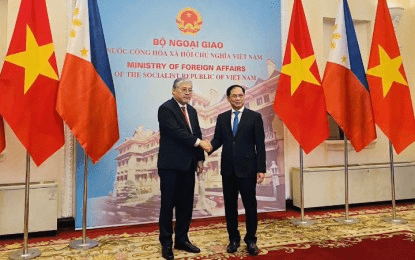 MANILA – Vietnam has vowed to support President Ferdinand R. Marcos Jr.'s priority on food security, the Department of Foreign Affairs (DFA) said Friday.
The commitment was made during the two-day official visit of Foreign Affairs Secretary Enrique Manalo to Hanoi from Aug. 1 to 2.
Citing the changing landscape of global security and challenges, the agency said Manalo's visit paved the way for the two states to explore new areas of cooperation such as digital economy, renewables and food security.
"[V]ietnam reiterated its existing support to the Philippines and pledged to continue working with the Philippines to enhance trade and investments between the two countries, and will continue to support President Marcos' priority on food security," the DFA said.
In 2022, the Philippines imported 3.218 million metric tons of rice from the Southeast Asian state.
Vietnam's expression of support came amid reports that Hanoi is planning to cut its rice exports to 4 million tons a year by 2030.
In the same visit, Vietnam's Prime Minister Pham Minh Chinh emphasized Hanoi's commitment to reaching the target of USD10 billion trade between the two countries.
Trade between the Philippines and Vietnam last year reached USD7.8 billion.
In the 10th Philippines-Vietnam Joint Commission on Bilateral Cooperation, Manalo and his counterpart, Foreign Minister Bui Thanh Son also reaffirmed commitment to bolster the two countries' seven-year-old strategic partnership.
The DFA said the visit underscored the robust relations that the Philippines enjoys with Vietnam, particularly in areas such as political, defense and security, economic, maritime cooperation and socio-cultural cooperation.
"The visit of the Secretary highlighted the positive thrust towards a more robust and more comprehensive relationship between the Philippines and Vietnam, the sole Strategic Partner of the Philippines in the ASEAN region," it said. (PNA)