By Joyce Ann L. Rocamora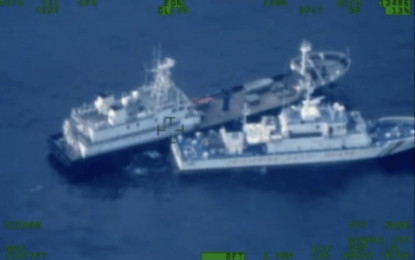 MANILA – The United States and Canadian Embassy in Manila condemned on Sunday the latest dangerous blocking maneuvers of the Chinese Coast Guard (CCG) off Ayungin Shoal.
The National Task Force for the West Philippine Sea reported that a CCG vessel "collided" with the Armed Forces of the Philippines-contracted Unaiza May 2 boat while en route to resupply the Filipino troops stationed at the BRP Sierra Madre on Sunday morning.
In the same mission, the Philippine Coast Guard (PCG) vessel was "bumped" by a Chinese maritime militia vessel "while it was lying" approximately 6.4 nautical miles off Ayungin.
US Ambassador to the Philippines MaryKay Carlson said the US condemns these latest "disruption of a legal Philippine resupply mission to Ayungin Shoal" that have put the lives of Filipino service members at risk.
"We stand with our friends, partners, allies in protecting Philippine sovereignty and in support of a free and open Indo-Pacific," she said.
Canadian Ambassador to the Philippines David Hartman said Ottawa also stands in "full unity with the Philippines in defense of its territorial integrity and the upholding of international law."
In a strongly worded statement, the Canadian Embassy said China's actions within the Philippines exclusive economic zone "are unjustified."
"China has no lawful claim to the West Philippine Sea. Its actions are incompatible with the obligations of a signatory to the United Nations Convention on the Law of the Sea," it said.
"Continuing acts of intimidation and coercion undermine safety, stability, and security across the region, and increase the risk of miscalculation," it added.
It welcomed the news that no injuries resulted from the collision and commended the "professionalism and restraint" exercised by the PCG. (PNA)