By Joyce Ann L. Rocamora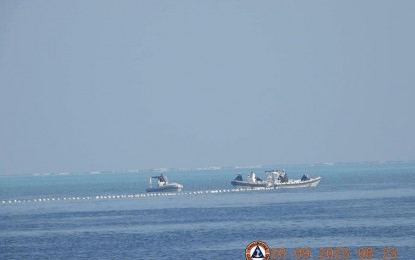 MANILA – The United States Embassy in Manila has called out China's military for shadowing a Philippine Navy vessel near Bajo de Masinloc (Scarborough Shoal), labeling its actions as "detrimental to regional peace".
In a statement Thursday, the embassy urged the Chinese government to respect the rights and freedom of all states under international law.
"The PLA's (People's Liberation Army's) persistent swarming and shadowing of the Philippine Navy and Coast Guard – as well as of fishing and other vessels – near Scarborough Reef are detrimental to regional peace and stability," it said.
"We urge the PRC (People's Republic of China) to respect the navigational rights and freedoms guaranteed to all States under international law," it added.
The Chinese PLA Southern Theater Command had confirmed it warned off and "restricted" a Filipino warship, the BRP Conrado Yap (PS-39), after it entered the waters "adjacent to China's Huangyan Dao" on Oct. 30.
China claims it has sovereignty over Scarborough Shoal, which it calls Huangyan Dao.
In an Oct. 30 statement, the Chinese PLA Southern Theater Command said its troops "remain on high alert at all times to resolutely defend China's national sovereignty and security and peace and stability in the South China Sea.
Armed Forces of the Philippines spokesperson Col. Medel Aguilar, meanwhile, belied China's claim that it was able to prevent the Filipino ship from doing its mission.
"Not true. An illegal occupant cannot prevent the legitimate owner from entering his house and backyard," he said Tuesday in a message to reporters.
National Security Adviser Eduardo Año on Tuesday said BRP Conrado Yap was conducting routine patrol operations in the general vicinity of Bajo de Masinloc.
In July 2016, the Arbitral Tribunal constituted under the United Nations Convention on the Law of the Sea found that Scarborough Shoal is a traditional fishing ground for many nationalities, including those in the Philippines, China (including Taiwan), and Vietnam.
It declared that China's operations at Scarborough Shoal from May 2012 onwards unlawfully prevented Filipino fisherfolk from exercising their traditional fishing rights at the shoal.
The ring-shaped coral reef is located 124 nautical miles off Masinloc, Zambales and is well within the Philippines' 200-nautical-mile exclusive economic zone.
The feature is at least 472 nautical miles away from the nearest coast of China. (With report from Priam F. Nepomuceno/PNA)