By Priam Nepomuceno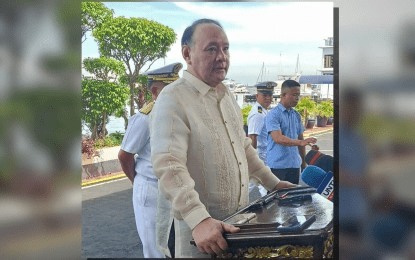 MANILA – Department of National Defense (DND) Secretary Gilberto Teodoro Jr. took exception to China's claim that the Philippines is acting as a puppet of the United States in standing up for its rights in the West Philippine Sea (WPS).
"The favorite Chinese narrative, is that this is all a play of the United States and that we are just marionettes or puppets or 'tuta' ng mga Amerikano na sumusunod sa playbook nila (subordinates of the Americans following their playbook)," Teodoro said in a Bagong Pilipinas Ngayon briefing on Wednesday afternoon.
He added that this Chinese allegation is "very insulting" to all Filipinos as it assumes that the country has no ability to think and stand up for its rights.
"And I think this is really looking down on us and that really disgusts me, and so hinihimok ko po ating mga kababayan na talagang tumindig laban dito sa pag insulto ng China sa atin (I am urging our country to stand-up versus this insult of China against us)," Teodoro said.
Earlier, the DND chief said the Philippines is not looking for any conflict or war with China but merely protecting its maritime territories from continued Chinese encroachment.
He added that protecting the country's territory is accepted under international law.
Teodoro noted that China's expansive territorial claims that encroach on the West Philippine Sea and the country's other territories are contrary to the "norms ng international law".
He said the misinformation being spread by China, claiming that the Philippine presence in the WPS is illegal, is being taken seriously by the government. (PNA)