By Christopher Lloyd Caliwan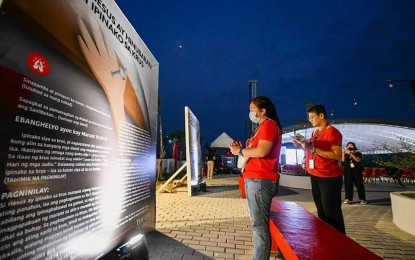 MANILA – The Taguig City government formally opened its "Life of Christ" exhibit at the TLC Village in Barangay Lower Bicutan to give Taguigueños a place to reflect this Lenten season.
The attraction is open from Holy Tuesday until Easter Sunday from 8 a.m. to 10 p.m.
In a statement, the city government said Taguigueños can reflect on Jesus' passion, death, and resurrection on different corners of the park, which features The Stations of the Cross, Prayer Corner and Prayer Boxes, and Art Installations.
The city government also said 14 panels, presenting events in Jesus Christ's last day, contained each an apt Bible verse, a reflection, and an activity or a question.
Those asking for spiritual blessing can do so in the Ask Jesus provision, where they can write down their prayer intentions, and light a candle in the Prayer Corner and Prayer Boxes.
A black interactive Cross installation art is also placed in the middle of TLC Square, where visitors can write down their sins and bad habits on black paper and nail them individually on the cross.
During her visit to the park, Taguig Mayor Lani Cayetano hoped that regardless of religious affiliation, Taguigueños would put focus on being grateful for the greatest sacrifice of Jesus Christ who saved the world from sins.
"I also encourage the younger generation to study and experience the Passion of the Christ, especially at this time, when our youth are going through so many trials," she added.
Meanwhile, Senator Alan Peter Cayetano, meanwhile, asked Taguigueños and the leaders of the city to remember two very simple commandments to have a more meaningful Holy Week:
"Love God with all our hearts, spirit, and mind above everything and everyone,… and love yourself and love others as you love yourself."
Meanwhile, Southern Police District (SPD) director Brig. Gen. Kirby John Kraft ordered the deployment of 815 police officers during Holy Week to ensure the safety and security of the public.
The SPD covers the cities of Makati, Pasay, Taguig, Parañaque, Las Piñas and Muntinlupa as well as the municipality of Pateros.
It said the six cities and one municipality under SPD have a total of 82 places of worship, which will be secured by 323 police officers while another 46 police officers will man one-stop-shop help desks in strategic areas.
Kraft said a total of 141 police officers will secure major thoroughfares, while 110 are assigned to transportation hubs.
The 46 commercial areas in the southern metropolis will be secured by 109 police personnel while the number does not include the 86 cops in malls and other places of convergence.
"The SPD will conduct a big preparation for the Holy Week and our personnel are ready to respond to any situation that needs immediate action," Kraft said in a separate statement. (PNA)