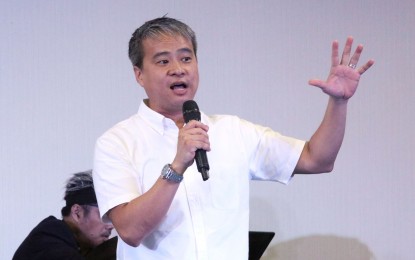 MANILA – Senate Majority Leader Joel Villanueva wants the private sector and government agencies to put up a unified program that will generate some 1.7 million jobs annually to address the country's unemployment woes.
In his Senate Bill No. 129 or the proposed "Trabaho Para sa Lahat ng Pilipino Act," which establishes the National Employment Action Plan (NEAP) that would set the direction for job creation, Villanueva said the solution must start with the government and private sector to take the same path in combating unemployment.
"We hope that through the establishment of the framework for our National Employment Action Plan, and with the help of our co-workers in the government and our partners in the private sector, we can create at least 1.7 million jobs annually," Villanueva said in a statement on Wednesday.
He said the establishment of the NEAP will help "navigate the dynamic and ever-changing labor market for the benefit of the entire Filipino workforce."
He said preliminary results of the November 2022 Labor Force Survey showing the number of unemployed persons at 2.18 million, which has followed a downward trend since August 2022, is a positive development.
However, he said the rise in the number of underemployed at 7.16 million, from 6.67 million in October, remains worrisome.
"What we aim for our people are not just temporary gigs, but quality, decent jobs that can sustain families," said Villanueva, a former chief of the Technical Education and Skills Development Authority (TESDA).
The proposed measure, Villanueva said, will address key employment-related issues such as creating an enabling environment that will support the growth of micro, small, and medium enterprises as well as industries with high potential for employment for job generation, continuing the alignment of the skills of workers and demands of industry, and improving programs such as employment facilitation services.
It also envisions to put in place targeted measures to ensure the employability and competitiveness of the Filipino workforce, and improve the collaboration between the government and the private sector, among others.
"We also need to be better prepared for the future of work, including dealing with the impact of the Fourth Industrial Revolution and even the Fifth Industrial Revolution, as well as the growing digital economy and gig economy, along with many other issues facing our labor force," Villanueva said in his explanatory note. (With a report from Leonel Abasola/PNA)