By Filane Mikee Cervantes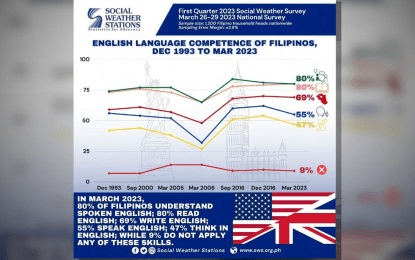 MANILA – Almost half of Filipino adults nationwide are competent with the English language, according to the latest Social Weather Stations survey.
The poll, conducted from March 26 to 29, 2023, showed that at least 47 percent of Filipinos have the ability to think in English.
The March survey also revealed that Filipino adults' understanding of spoken and written English was at 80 percent.
In terms of their skills in writing or speaking English, SWS said 69 percent of Filipinos write the language, while 55 percent speak the language. Only around 9 percent do not apply any of these skills.
Meanwhile, the pollster said the usage of the English language has been at its highest since September 2000.
The survey showed that Filipinos who use English fully jumped from 5 percent in December 2016 to 9 percent in March 2023.
Those who fairly use the language also increased from 28 percent in 2016 to 35 percent in 2023, while those who use it partially only declined from 43 percent in 2016 to 41 percent in 2023.
Only 14 percent have no use of the language in 2023.
The same survey also revealed that at least three out of four adult Filipinos, or 75 percent, are competent with the Filipino language.
SWS said that in March 2023, 96 percent of Filipinos read Filipino, 93 percent understand spoken Filipino, 93 percent write Filipino, 87 percent speak Filipino, while only 1 percent do not apply any of these skills.
Filipinos' usage of the Filipino language, according to SWS, is at its highest as well since September 2000.
The first quarter 2023 SWS survey showed that 53 percent fully use the Filipino language, 29 percent fairly use it, 15 percent partially use it, and 4 percent almost have no use of it.
This is an improvement from the 2016 level of 49 percent for full usage, 23 percent for fair usage, and 6 percent for almost no usage, while the partial usage for 2016 was slightly higher at 22 percent.
The First Quarter 2023 Social Weather Survey was conducted using face-to-face interviews of 1,200 adults aged 18 and above nationwide. It had a sampling error margin of ± 2.8 percent. (PNA)