By Ferdinand Patinio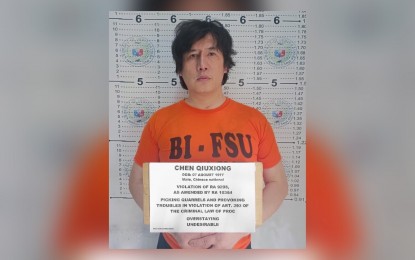 MANILA — A Chinese national suspected of being a member of a syndicate that is trafficking their citizens in the Philippines is now under the custody of authorities, the Bureau of Immigration (BI) said Thursday.


Commissioner Norman Tansingco identified the foreigner as a certain Andy Cheng, 38, who was arrested by operatives of the BI's Fugitive Search Unit (FSU) last Dec.13.
The suspect, who also has many aliases, was tagged as a suspect in torture videos of illegal online gaming companies.

Cheng was initially arrested by the Philippine National Police Criminal Investigation and Detection Group – Regional Field Unit National Capital Region last Dec. 7 in Alabang, Muntinlupa City but posted bail after six days.

"Our operatives immediately arrested him after learning that he was about to post bail, as he is also wanted by the BI for violating immigration laws," Tansingco said in a statement.
Reports said Cheng allegedly underwent plastic surgery to evade detection by authorities and numerous fake IDs, including firearms, were found in his possession.
He was also wanted by the BI for misrepresenting himself as a Filipino and for being an undesirable alien.
"His continued stay here in the country poses a threat to Filipinos and foreign nationals working here. We will not allow him to continue his illegal activities that sow fear among foreigners in the Philippines," Tansingco said. (PNA)