By Jose Cielito Reganit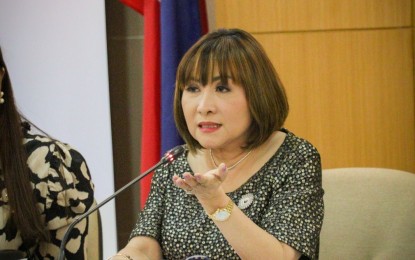 MANILA – OFW Party-list Rep. Marissa "Del Mar" Magsino on Wednesday vowed to intensify the fight against illegal recruiters and labor traffickers as she led a policy dialogue with officials of various government agencies, recruitment agencies, as well as victims of the nefarious practices.
"As the lone representative of the OFW Sector in the 19th Congress, the only female legislator to have represented our OFWs (overseas Filipino workers), and the chair lady of Anti-Trafficking OFW Movement (ATOM), it is incumbent upon me to fight these illegal recruiters and traffickers to the very end," Magsino said in a statement.
"Ang daming kababayan natin ang naloko at naghirap dahil sa matatamis na pangako ng mga illegal recruiters, pero kapahamakan ang kinahinatnan nila (A lot of our countrymen were deceived and went broke because of the sweet promises of illegal recruiters, but ended up in tragedy)."
She said the OFW Party-list organized the policy dialogue due to the growing problems of illegal recruitment and human trafficking, particularly labor trafficking, of Filipinos through online modes and multi-country transit points schemes.
Three victims of illegal recruitment who were repatriated from Laos and Myanmar attended the policy dialogue to narrate their harrowing experience in the area dubbed as Golden Triangle.
The victims narrated how they were approached by recruiters online, traveled to Laos and Myanmar through Thailand, and were then forced to work as scammers by the syndicate running the area, luring potential victims into cryptocurrency.
Two of the victims said they were mauled by five men when they expressed their desire to go home. At the time of the physical assault, one of the victims was pregnant. The victims were also electrocuted and starved when they were unable to meet their quota.
Their detailed narratives helped the forum participants identify the administrative and policy gaps in our current systems.
Magsino said the policy dialogue with all allied institutions is a concrete step toward addressing the administrative and policy gaps that may be contributing to the problem.
Among the areas of concern identified were the lack of jurisdiction to prosecute illegal recruitment done online and committed overseas; the need for a specific and comprehensive law on illegal recruitment and labor trafficking; the need to reconvene the Presidential Task Force Against Illegal Recruitment (PTFAIR); and the need for stronger multi-lateral coordination with foreign authorities in Southeast Asia to counter the transnational nature of the crime.
"Sa mga illegal recruiters, kabahan na kayo kasi hindi namin kayo tatantanan hanggang hindi nasusugpo ang inyong iligal na gawain (Illegal recruiters, be afraid because we will not stop until we put an end to your illegal activities)," Magsino said.
Officials of the departments of migrant workers, justice, and foreign affairs, immigration bureau, Philippine Center on Transnational Crime, and National Bureau of Investigation attended the policy dialogue, along with officials of various recruitment and manning agencies, particularly Ryan Sefiane, chairman of the Sol Terra Group of Companies, who was instrumental in the repatriation of Filipinos stranded in Bali, Indonesia who were victimized by online illegal recruiters offering work in Japan. (PNA)