By Filane Mikee Cervantes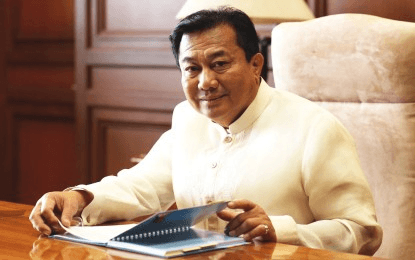 MANILA – A lawmaker on Monday said the Office of the Ombudsman should have bigger confidential funds to enable the anti-graft body to perform its vital role in upholding accountability and transparency in government.
During the budget deliberations of the Office of the Ombudsman before the House Committee on Appropriations, Davao del Norte Rep. Pantaleon Alvarez said the budget proposal of PHP51.468 million in confidential funds allocated to the Ombudsman's office is "insufficient" to effectively carry out crucial case building and investigation activities.
Alvarez pushed for an increase for the Ombudsman's confidential funds under the proposed 2024 budget for the purpose of facilitating discreet and thorough investigations, which often involve sensitive and high-stakes cases.
"'Yung request po na proposed budget po ng Ombudsman for confidential funds na PHP51.468 million napakaliit po nito, considering po 'yung trabaho at tsaka yung function ng Ombudsman (The request of the Ombudsman regarding its proposed budget for confidential funds amounting to PHP51.468 million is not enough considering the job and function of the Ombudsman)," he said.
"Yung case building lang, investigation and fact finding, hindi po madali yun at hindi po mura yun. Mahirap po, mahirap kumuha ng mga ebidensya, at magkumbinsi ng mga tao para mag testify. Kaya po para sa akin, ay baka pwede naman dagdagan natin ito from PHP51.468 million baka pwede na natin gawin PHP100 million ito (The case building, investigation, and fact finding is not easy and not cheap. It's difficult to gather evidence, and convince people to testify. That's why for me, maybe we could increase the funding for this from PHP51.468 million to PHP100 million)," he added.
He said the budgetary constraints may hinder the Ombudsman's ability to deliver justice and hold public officials accountable for any acts of corruption and misconduct.
He noted that the allocation of confidential funds is imperative for the Office of the Ombudsman to uphold the highest standards of professionalism and safeguard the integrity of their investigations.
He urged fellow lawmakers to reevaluate the budget allocation for the Ombudsman and consider increasing the confidential funds to better serve the interests of justice and accountability.
"Gusto nating sugpuin ang korapsyon? Aba edi gastusan natin! Suportahan natin yang opisina upang sa gayon ay makagalaw sila… Sana po ma-consider ng House na i-increase ang budget ng Ombudsman (Do we want to fight corruption? Then we must spend money on it. Let's support the office so that they can function better… Hopefully the House would consider increasing the budget for the Ombudsman)," he said.
House committee on appropriations chair Elizaldy Co said the Ombudsman serves as the "guardian of good governance" and acts as a "watchdog" to ensure that government officials conduct themselves with honesty and moral uprightness.
Co said the Ombudsman helps root out corruption to foster an environment where trust in public institutions can "flourish through thorough investigations into allegations of corruption, malfeasance, and unethical conduct."
"The Ombudsman by ensuring that those who abuse their power or engage in wrongdoing are held answerable, reinforces the idea that no one is above the law and that public officials must be accountable for their decisions and actions and act in the public's best interest," Co said.
"The Ombudsman serves as a bridge between the government and the governed, ensuring that public services are delivered efficiently, fairly, and without prejudice. This transparency fosters public trust, as citizens can see that their government is acting in their best interests," he added.
Co noted that the agency proposed a budget of PHP4.98 billion for its major programs, such as the Anti-Corruption Investigation Program, Anti- Corruption Enforcement Program, Ombudsman Public Assistance Program, and the Corruption Prevention Program.
"As we move forward in our pursuit of a just and equitable society, let us remember that a strong and independent Ombudsman is not merely a luxury but a necessity, ensuring that the values of integrity, transparency, and accountability continue to thrive in our public service, ultimately serving the greater good of our nation," Co said. (PNA)