By Sibyl Reymundo-Santiago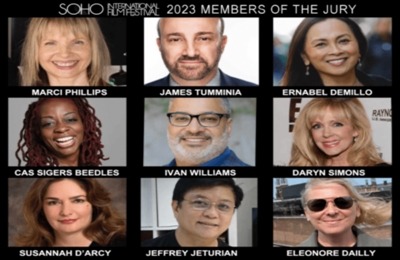 The 2023 SOHO International Film Festival (SIFFNYC), which opens on September 14, will have record 35 world premieres, 6 US premieres, 32 Northeast premieres and 29 New York premieres. The film festival, celebrating its 14th year, will run through September 21 at the Village East by Angelika in New York City.
"We are absolutely thrilled by the volume of submissions and the caliber of films for this year's edition of the festival," said Sibyl Reymundo-Santiago, SIFFNYC's executive director and head of programming. "There is so much anticipation as we eagerly prepare to unveil our talented filmmakers and their remarkable creations on screen!"
Santiago added that the opening night film and the full list of accepted entries from more than 38 countries, ranging from feature and short films, documentaries to series pilots, will be revealed soon. The complete schedule will be posted on sohofilmfest.com.
The film festival, founded in 2009 by Jorge Ballos, announced this year's jurors: Marci Phillips (head juror), leads the New York office for the East Coast talent pool for ABC Television Network and Disney+; Daryn Simons, producer, talent manager, digital strategist, entrepreneur and partner of Cohesive Entertainment Group; Eleonore Dailly, creative executive and award-winning producer and director; Ernabel Demillo, journalist and host of CUNY-TV's 7-time Emmy-nominated program "Asian American Life"; Ivan Williams, co-creator of Altar Identity Studios where he executive produced multiple film projects; James Tumminia, producer/actor/director/writer who received a 2019 Emmy nomination and won two Telly Awards; Jeffrey Jeturian, multi-award winning Filipino filmmaker; Susannah D'Arcy, international producer and president of BritCan Media; and Cas Sigers Beedles, a professional writer, director and producer and author of six fiction novels.
The jurors will announce the winners at the awards gala on September 21. Festival goers will vote and decide the SOHO14 Audience Awards, presented to entries in the feature, shorts/series and exhibition film categories.
Past attendees of the festival include Octavia Spencer, Pierce Brosnan, Bobby Cannavale, Armand Assante, Luis Guzman, Sean Young, Kevin Jonas, Adam Brody, Eric Roberts, Michael Imperioli and Steve Schirripa.
This year's festival is presented by the SOHO Film Forum, a 501(c)(3) organization. SIFFNYC celebrates cutting-edge digital technology while honoring traditional forms of storytelling and encourages new and seasoned filmmakers from New York City and around the world to create and send in their fresh and innovative cinematic pieces.
For sponsorship inquiries, contact: info@sohofilmfest.com.
For more information, visit: www.sohofilmfest.com. For press inquiries, contact: executiveoffice@sohofilmfest.com.