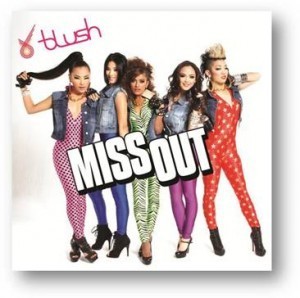 Los Angeles, CA – Having released their single and music video for their highly popular, upbeat pop tune, "Miss Out," on September 6th, international pop group BLUSH continues to impress music lovers worldwide. Within one weekend, the music video hit Most Popular on YouTube and view-counts soared, with the count now at 380,000 and still climbing. The song even sparked a collaboration with popular YouTube music artist and fellow Billboard Chart-topper, AJ Rafael, who joined the girls in a candlelight, a cappella version of the hit song.
 This multi-talented breakout group showcases "5 Girls, 5 Countries, 5 Voices" – Angeli Flores from the Philippines, Alisha Budhrani from India, Ji Hae Lee from South Korea, Natsuko Danjo from Japan, and Victoria Chan from China, and brings with them a message of unity and girl power. BLUSH has been creating music history with their #1 Billboard Dance Chart hit, "Dance On," and a chart-topping collaboration with Snoop Dogg, "Undivided." They stand alone as the only Asian artists ever to have their first two singles hit Top 10 on a major U.S. chart, and are the first to have both singles hit Top 3. BLUSH is the fastest of any Asian artist to hit #1 on a major U.S. chart.
 In just one year of the group's creation, BLUSH has opened and performed alongside popular mainstream music artists such as Justin Bieber, Jessie J, B.o.B., Diana Ross, Far East Movement and the Black Eyed Peas. They have also had a lead single on Disney's "Shake It Up" Season 2 soundtrack. Notable press outlets, from The Wall Street Journal to the Los Angeles Times, have given overwhelmingly positive feedback and attention to BLUSH, for their collective as well as individual star qualities and upbeat messages.
·         Victoria–'Queen V'–is the regal and poised singer/dance with model-looks and an extensive gymnast background who, while being raised in Hong Kong, recorded several successful singles for the Chinese market.
·         Natsuko–'Nacho'–is the Japanese dance-crew veteran with a Hip-Hop vocal soul.
·         Angeli is the sensual singer from the Philippines who was the former lead singer of two bands as well as a top contestant on Pinoy Idol.
·         Ji Hae, born and raised in Korea, is the seemingly shy former law student with an R&B heart who has earned the nickname 'Tiger' because of her wild side.
·         Alisha–'Ali B'–is the youngest member, a multi-talented and multi-lingual Hindi singer/dancer who brings together Bollywood and Salsa with Hip-Hop and World Pop.
Check out the girl power of BLUSH and be captivated by the "Miss Out" music video here http://bit.ly/RFid2p. For more information, promos requests or to set up an interview, please contact Amy Wang by email atamy.wang@plancagency.com or by phone at (213) 291-0545.
###
About Farwest Entertainment:
FarWest Entertainment is a Los Angeles, Hong Kong, Shanghai and Singapore-based independent production company that delivers unique multi-platform global entertainment, including Television, Music, Movies, Animation and other high-quality digital content. Creativity is the universal language: Our mission is to bridge Asia and the West through exclusive intellectual properties, distinctive corporate focus and some of the best new entertainment ventures in the world.  More information can be found at:  www.farwest.tv.