By Wilnard Bacelonia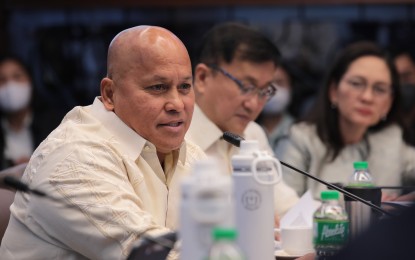 MANILA – The Senate Committee on Public Order and Dangerous Drugs decided on Monday not to allow the "virtual" presence of Negros Oriental 3rd District Rep. Arnolfo "Arnie" Teves before the committee's inquiry in the assassination of late Negros Oriental Governor Roel Degamo.
Senator Ronald "Bato" Dela Rosa, who chairs the committee, cited legal issues about the panel's jurisdiction over Teves, who is currently in an unknown location overseas.
"There may be legal issues that will arise as to the taking of oath as a basic requirement in taking testimonies of any resource person or witness. The whereabouts of Congressman Teves is not known or definite. Thus, jurisdiction as to his oath will be taken, maybe questioned legally," Dela Rosa told the committee as he presided over the inquiry.
He said the committee should have jurisdiction over Teves especially on instances where the committee will cite him in contempt or issue a subpoena.
"Kapag maging unruly or magiging deceitful yung ating witness when we are going to cite him for contempt, we don't have jurisdiction over his physical body," Dela Rosa said.
The lawmaker recently announced that the committee sent an invitation to Teves to attend the inquiry which the latter accepted with the condition of allowing him to only be "virtually present."
However, Pamplona Mayor Janice Degamo was dismayed with the announcement saying she and the families of other victims will be attending the inquiry physically while Teves will only be present online.
"Cong. Teves is a fugitive. He should not be afforded such accommodation," Mayor Degamo said in her letter to Dela Rosa.
For her part, Senator Risa Hontiveros said Teves can be allowed to attend the hearing virtually but should be within the jurisdiction of a Philippine consulate or embassy.
"I believe that our rules of procedure governing inquiries in aid of legislation, require that witnesses to our proceedings be placed under oath or affirmation prior to giving their testimony. Nasa ibang bansa ba si Rep. Teves? Nasa aling embassy ba siya (Is Rep. Teves abroad? In what embassy is he in)? How is he going to take his oath as a witness?" Hontiveros said.
"Because if a potential witness is abroad, he has to be sworn at the embassy or consulate and give his testimony there," she added.
The inquiry was launched in response to Senate Resolution 518 filed by Hontiveros seeking not only to look into the assassination of the late governor, but also other recent or attempted political assassinations in other parts of the country. (PNA)