By Wilnard Bacelonia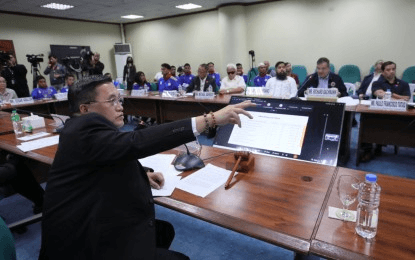 MANILA – The Senate Committee on Sports convened on Monday to discuss Senate Bill No. (SBN) 423, which seeks to strengthen grassroots sports development through the institutionalization of the Philippine National Games (PNG).
Senator Christopher Lawrence Go, who chairs the panel and author of the bill as well, said the initiative aims to discover and nurture athletes who could excel in international sports competitions, bring pride and international goodwill to the country, and address the long standing challenges of Philippine sports in general.
"The Philippine National Games bill seeks to institutionalize a truly comprehensive national grassroots sports program that will harness the vast potentials of Filipinos in discovering and developing champion athletes who could excel in international sports competitions," Go said in his opening statement.
"Through the institutionalization of the Philippine National Games, we can scout potential athletes in various sports who could form part of our national pool of athletes," he added.
If passed into law, SBN 423 shall establish PNG as the government's premier national sports competition to be held once every two years.
It is also expected to encourage local government officials to promote the development of sports in the countryside covering all provinces, cities, muncipalities and barangays.
The measure also eyes the Department of Education's (DepEd) Palarong Pambansa and other local sports competitions organized by the local government units or the private sector to serve as "feeder" and preparatory sports program for the institutionalized PNG, which will be headed by the Chairperson of the Philippine Sports Commission (PSC) as the Secretary General.
Various government agencies like the PSC, DepEd, Commission on Higher Education, Department of the Interior and Local Government, LGUs, the Philippine Olympic Committee, and the National Sports Associations will have their own mandates, including the drafting of the Implementing Rules and Regulations, under the proposed measure.
PNG was declared as the "centerpiece sports program" through Executive Order No. 163 in 1994 for the purpose of addressing the need of a truly comprehensive sports development program, generating sports activities in the countryside, and harnessing the full potential of athletes for athletic execellence.
PSC Chairperson Richard Bachmann admitted that the country have not experienced PNG for the last five years but will be having simultaneous competitions of PNG and Batang Pinoy on December 17-22 this year.
"Due to the pandemic po also natigil (it was stopped). So, this December 16 to the 22nd, we'll launch the national PNG and the national Batang Pinoy sabay na (all together)," Bachmann told the committee. (PNA)