By Wilnard Bacelonia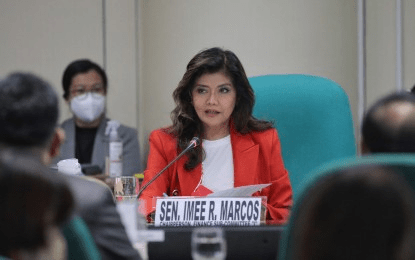 MANILA – The Boeing C-17 transport aircraft registered under the US military that landed at the Ninoy Aquino International Airport (NAIA) morning of June 26 was in the Philippines to support a bilateral military exercise, Senator Imee Marcos revealed Friday.
According to the chair of the Senate Committee on Foreign Relations, this was relayed in a letter sent by the US Embassy to her committee on Thursday explaining why the aircraft had to land at the NAIA.
"It stopped at NAIA before going to its final destination in Palawan in order to comply with Philippine customs and immigration requirements," Marcos said in a press statement.
"However, due to a clerical error, some of the information provided by the U.S. Government for the flight clearance was incorrect," she added.
Marcos said the US Embassy admitted that while the aircraft had an approved diplomatic clearance from the Department of Foreign Affairs, the US flight planners did not coordinate in advance with the NAIA ground handlers.
"This lack of coordination, in turn, led to the parking of the aircraft in the wrong spot, delays in ground servicing, and subsequent delays in the completion of customs and immigration processes," she said.
Marcos added that the letter also indicated that the aircraft's cargo included equipment for a US Marine Corps Mobile Operations Center to be used in the Marine Aviation Support Activity exercise and that the one non-crew passenger aboard the aircraft was a US Marine traveling with the cargo who was set to join his unit in Palawan.
On June 27, Marcos filed Senate Resolution No. 667 urging the appropriate committee to investigate the incident questioning the lack of coordination and the reason why it landed at NAIA instead of Palawan.
"In light of the recently revealed US request for the Philippines to temporarily house Afghan Special Visa Immigrant applicants, the continued escalation of geopolitical tensions in the Info-Pacific Region, and the re-emergence of internal security threats, it is crucial for the State to carefully scrutinize the activities of foreign militaries in the country," the resolution read. (PNA)