By Joyce Ann L. Rocamora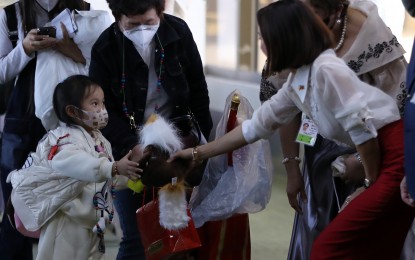 MANILA – The Philippines on Tuesday welcomed a planeload of Chinese travelers after China finally eases its restriction for outbound travel.
About 190 visitors from Xiamen arrived at the Ninoy Aquino International Airport Terminal 1 via Xiamen Airlines flight MF819.
With China contributing to over 1.7 million tourists prior to the pandemic, the arrival signaled renewed hope for the tourism industry's speedy recovery.
"The arrival of Chinese tourists to the Philippines brings a very positive impact for the prospects of the Philippine tourism industry recognizing that China supplies the most number of people for outbound travel," Tourism Secretary Cristina Frasco said in a presser.
"We anticipate even more Chinese tourists to arrive which will greatly help us in our efforts to transform and to recover the tourism industry as our intention is not only to regain our pre-pandemic numbers but to exceed it knowing how the relationship between the Philippines and China will only further improve in the years to come with the stance of both our governments," she added.
Frasco said Manila targets to further exceed the 2019 Chinese arrivals to the country as the government ushers in a new period for recovery where it recognizes the travel sector as pillar of economic growth.
Manila, she said, would continue to improve its key destinations popular to Chinese tourists, specifically Boracay, Cebu, Bohol and Palawan.
Chinese Ambassador to the Philippines Huang Xilian, for his part, said the arrival reflects the importance Beijing places in improving relations with Manila, specifically on strengthening tourism cooperation.
"The recent state visit of President (Ferdinand Marcos Jr.) to China, both presidents of China and the Philippines have agreed to make people to people exchanges as one of the four already areas of cooperation and of course during the visits, our tourism cooperation was actually signed so I think that today's event is also one of the measures to implement the agreement reached by our two leaders," he said.
"We believe this kind of tourism cooperation and people to people exchanges would further promote the traditional friendship and cooperation between our two countries," he added.
China identified the Philippines as one of the 20 pilot areas for outbound tourism group tours, which also includes Thailand, Indonesia, Cambodia, Malaysia, Singapore, Laos, Sri Lanka, the Maldives, United Arab Emirates (UAE), Egypt, Kenya, South Africa, Russia, Switzerland, Hungary, New Zealand, Argentina, Cuba and Fiji.
"We hope that we would come back to the pre-pandemic level in the very near future," Huang said.
The Philippine Travel Agencies Association (PTAA) and the Philippine Airlines (PAL) in a separate briefing also welcomed the return of high-spending Chinese tourists.
"That's additional income for our country and the Philippines is more than ready to accept tourists whatever nationalities would come in. We are very excited to give them our best services," PTAA president Michelle Taylan said.
PAL recently resumed flights to Xiamen and Guangzhou, with hopes to open up more flights soon as Covid-19 curbs relax.
"We're also working with authorities both here in the Philippines and China and into making sure that we of course observe all maximum health protocols," PAL Assistant Vice President for Passenger Sales Marissa Dimaano said.
China was Manila's second top source of foreign travelers in 2019 next to South Korea.
Based on the latest DOT data, the country now ranks 10th in terms of arrivals, with 6,673 visitors recorded as of Jan. 24. (PNA)