By Filane Mikee Cervantes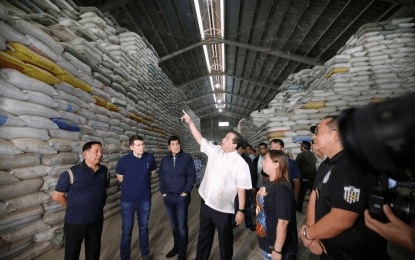 MANILA – House of Representatives Speaker Martin Romualdez on Wednesday called on the Bureau of Customs (BOC) to send rice smugglers and hoarders to jail for committing a "heinous crime" against the poor by keeping this Filipino food staple out of their reach through price manipulation.
Romualdez made the call as he joined the BOC anew in another round of surprise inspections of rice warehouses in Bulacan, particularly the Gold Rush Rice Mill 3, Dinorado Rice Mill, JSS Rice Mill, and another rice warehouse with no signage or marking within the Intercity Industrial Complex.
"Kaya ang panawagan natin sa BOC, pag-ibayuhin pa ang pagsisikap na mahuli itong smugglers at hoarders na ito (That's why my call to the BOC is to intensify its efforts to catch these smugglers and hoarders). I believe that by sending them to jail, we will send a clear message to other hoarders to stop what they are doing under pain and penalty of jail time," he said.
Romualdez warned rice traders and importers to immediately release their supply to the market at reasonable prices or face possible confiscation of their rice stocks, as well as prosecution in accordance with the due process of law.
"Rice found to be smuggled or hoarded should be forfeited in favor of the government, in favor of the people's interest, for distribution or sale at a very low price," he said.
Romualdez said the warehouse raids are in line with the directive of President Ferdinand R. Marcos Jr. to the BOC to inspect more rice warehouses to address hoarding and the illegal importation of rice.
"Hoarders need to understand that the government led by President Marcos Jr. is serious in flushing out the people behind the price manipulation of rice. Kung hindi makukuha sa simpleng pakiusap, baka magtanda sila kapag nakulong (If they cannot be convinced to act on our simple request, then they might learn it the hard way when they get imprisoned)," he said.
Romualdez said the inspection showed an adequate supply of rice, which means that the continued rise in rice prices indicates efforts to withhold stocks to earn windfall profits.
He further noted that some of the rice stocks in the inspected warehouses were more than three months old.
"Yun lang ang warning natin sa lahat. Kung anong supply nyo, ilabas nyo agad. 'Wag nyo hintayin tumaas ang presyo sa world market. Nagbabantay kami at babalik kami dito. Kung kailangang i-raid ng Customs, ipapa-raid natin at kukunin natin at ibibigay natin sa mamamayan sa tamang presyo (That's our warning to everyone. Whatever supply you have, you need to release them. Don't wait for the price in the world market to soar. We are monitoring this and we will be back. If the Customs needs to raid these warehouses, then so be it and we will distribute these to Filipinos at fair prices)," he said.
Romualdez commended the BOC for making headway in its efforts to stamp out rice hoarders by conducting surprise warehouse raids, as he pledged to support any or all action against the price manipulation of agricultural products.
"Rice hoarding is a heinous crime because it victimizes poor families who barely have enough money to put food on the table and pay for everything else that will uplift their quality of life. Hoarders profit from the misery of others, and for that they deserve to be in jail," he said.
He said the BOC should follow through with its raids with the filing of criminal cases of economic sabotage against these hoarders and profiteers, whom he described as "opportunists."
During a meeting with concerned sectors at Malacañan Palace in Manila to discuss updates on government initiatives in ensuring rice supply and regulating its price, Marcos said the price of rice is a cause for concern, despite recent outlook by the Department of Agriculture (DA) that there is still sufficient supply.
He said cases of hoarding, the effects of tropical cyclones Egay and Falcon in severely affected areas and rice-deficit regions, and prices posed by intermediaries are several factors that may have caused the price hike.
The DA, currently headed by Marcos, earlier reported that retailers are selling rice at different prices, some at PHP38 to PHP40 per kg. as the cheapest while other varieties go for PHP50 per kg.
During the sectoral meeting, Marcos instructed the BOC to coordinate with the DA to study the possibility of donating seized rice to the Department of Social Welfare and Development.
BOC Commissioner Bienvenido Rubio, meanwhile, said the agency is ramping up its efforts to go after illegal rice hoarders and importers. (PNA)