By Filane Mikee Cervantes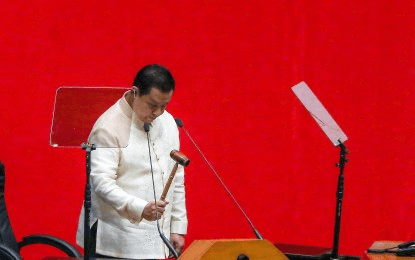 MANILA – Speaker Ferdinand Martin Romualdez on Friday called for unity across party lines to achieve progress and improve the lives of Filipinos, saying it is time to set aside speculations about the 2028 electoral prospects.
"As Speaker of the House of Representatives, my priority is to promote unity and collaboration across all political lines. This is a time to put aside rumors and speculations about future elections and concentrate on what we can achieve together for the betterment of our country and the welfare of the Filipino people," Romualdez said in a statement.
Romualdez made the remark in response to former President Rodrigo R. Duterte's claim that the House leader intends to run for president in the 2028 elections.
"I am grateful for the former President's engagement with the political discourse, and I understand the curiosity surrounding the 2028 elections. However, I believe it is important to focus on the present challenges facing our nation," he said.
He further noted that the country is currently dealing with significant economic, public health and regional issues that demand immediate attention.
"Marami pang problema ang mga Pilipino na kailangang bigyan ng solusyon. Hindi eleksyon ang sagot sa sikmurang gutom (Filipinos are facing several problems that need a solution. Election is not the answer to an empty stomach)," he said.
He stressed that his focus is on his current responsibilities as Speaker and not on future electoral possibilities.
"Regarding my personal political aspirations, I am currently committed to my role as Speaker and serving the needs of our nation," he said.
Romualdez also acknowledged the valuable contributions of Duterte, as he expressed hope that the former president will continue to lend his support and expertise.
"His continued involvement is crucial as we strive to overcome the challenges we face. Our collective efforts are vital for the progress and prosperity of the Philippines," he said. (PNA)