By Benjamin Pulta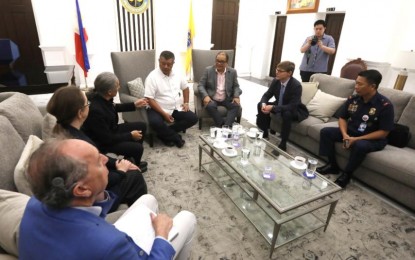 MANILA – An initial group of 35 medical examiners will receive training to upgrade their skills in forensic pathology under Dr. Morris Tidball-Binz.
Department of Justice Secretary Jesus Crispin Remulla met with Tidball-Binz, the United Nations (UN) Special Rapporteur on Extrajudicial Killings, at his office in Ermita, Manila on Tuesday.
UN Resident Coordinator to the Philippines Gustavo Gonzalez joined the meeting.
"We've already prepared a class for 35 medical doctors. We will also have prosecutors and senior prosecutors who will be asked to join this exercise because the capacity building is not only for forensic pathology but also investigative work," Remulla told reporters.
The funds may come from the UN Joint Program (UNJP).
"We asked the UNJP to fund this exercise to have most probably hold 14 to 21 days of seminar for twice this year so we will be able to follow up the skills of those involved," Remulla added.
Remulla said it was a "very good meeting."
"We agreed on the capacity building for the country for the future as a way forward to many of the things missing from the legal system and that capacity building is very important for the police and NBI (National Bureau of Investigation) and even the military so we will have a way to address wrongful death situations and be able to follow orders by the DOJ in the future," he said.
Remulla previously said Tidball-Binz is visiting to boost the country's capability in examining wrongful deaths, not as a special rapporteur.
"Capacity building is one of the commitments we have with the United Nations," Remulla said.
Tidball-Binz was appointed UN Special Rapporteur on April 2021.
He had been in the country as part of an international team of pathologists to identify the victims of Super Typhoon Yolanda (Haiyan) in 2013. (PNA)