By Zaldy De Layola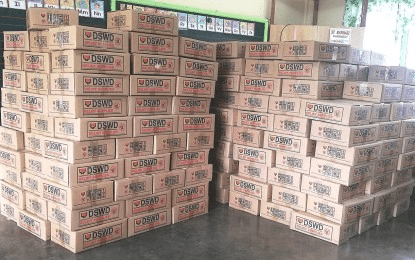 MANILA – The National Resource Operations Center (NROC) has been releasing thousands of boxes of family food packs (FFPs) for the past two days, way above the agency's target, according to Department of Social Welfare and Development (DSWD) spokesperson, Assistant Secretary Romel Lopez, on Wednesday.
He said this is in line with DSWD Secretary Rex Gatchalian's call on regional directors (RDs) to swiftly release the allocated food packs for the families and individuals affected by massive flooding due to Super Typhoon Egay and the enhanced southwest monsoon in Northern Luzon.
"I hope all the RDs are allocating these and releasing them as fast as NROC. And we hope that the stakeholders get them fast. The goods should not sleep in our warehouses," Gatchalian told the regional directors of Regions 1 (Ilocos), 2 (Cagayan Valley), 3 (Central Luzon) and the Cordillera Administrative Region (CAR).
The regional directors assured Gatchalian that they will stick to the delivery plan as designed by the Disaster Response and Management Group (DRMG).
Ilocos Regional Director Marie Angela Gopalan said all their requests for FFPs have been all accounted for to date.
"We will finalize how my team plans the distribution of the goods to the requesting parties. We will update you Sec (Gatchalian)," Gopalan told the DSWD chief.
Central Luzon Regional Director Jonathan Dirain, likewise, assured the Secretary that starting Wednesday, the hauling and pick-up of FFPs from NROC will increase considerably as the stakeholders have already engaged service providers for the trucks.
CAR Regional Director Leo Quintilla, meanwhile, reported that boxes of FFPs and water supplies have been flown using Philippine Air Force choppers to the municipality of Calanasan in Apayao province on Tuesday.
"Queries on how to donate to DSWD are starting to pour. We have opened our donation desks in all provinces. Water and food items are our priority needs," Quintilla said.
DRMG Assistant Secretary Marlon Alagao said he will check with the donation unit in the DSWD central office on how to go about the private donations to the DSWD. (PNA)