By Leonel Abasola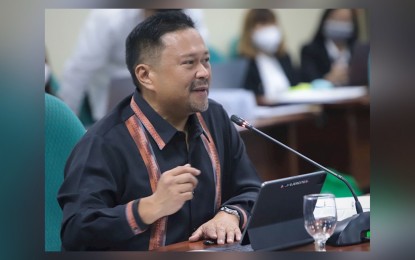 MANILA – Senator Joseph "JV" Ejercito on Wednesday said the massive railroad projects being implemented by the current administration is a major key to the country's economic recovery as this will provide jobs and transportation of farm products.
Ejercito said this will also provide employment to returning overseas Filipino workers (OFWs) as they remain top priority on the country's infrastructure and industrialization program.
He said the ongoing railway projects, such as the North South Commuter Line, South Long Haul and Mindanao Railway, are expected to spread development across the country's rural areas and pave the way for growth development in areas beyond Metro Manila and other major urban centers.
He told officials of the Department of Migrant Workers (DMW) to study how returning OFWs can benefit from the country's infrastructure and industrialization programs.
"Yung sa mga OFWs natin, probably in the long term, kung talagang matuloy itong industrialization natin at matapos yung mga infrastructure, yung integration ng OFWs (For the OFWs, probably in the long term, if industrialization pushes through and infrastructures are completed, the integration of our OFWs), that should be part of the long-term plan of the DMW," Ejercito said in a statement.
During the hearing of the Senate committee on economic affairs, DMW Undersecretary Hans Leo Cacdac told Ejercito that the agency will expand its current reintegration program, which has helped returning engineers and teachers.
Ejercito also asked the Department of Transportation (DOTr) to prioritize the hiring of returning OFWs in building and operating the country's major railway projects.
In July, Ejercito filed Senate Bill No. 158, or "An Act seeking to to create and institutionalize a comprehensive infrastructure development master plan," which covers several areas of development, such as transportation and logistics, energy, water resources, information and communications technology, social infrastructure, agri-fisheries modernization and food logistics, and asset preservation and maintenance strategies.
Ejercito said his proposed master plan hopes to ensure the continuity of the country's infrastructure program, regardless of changes in administration. (PNA)