By Christopher Lloyd Caliwan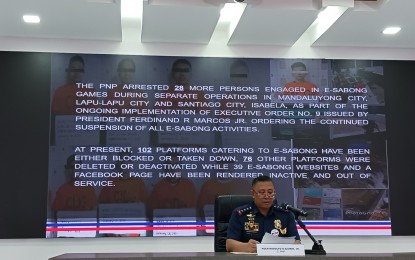 MANILA – The Philippine National Police (PNP) on Monday said it has recommended the inclusion of e-sabong (online cockfighting) on the list of illegal gambling activities penalized under Presidential Decree 1602, the country's anti-illegal gambling law.
In a press briefing at Camp Crame, PNP chief Gen. Rodolfo Azurin Jr. said the Anti-Cybercrime Group has recommended the measure in its consultations with Congress and has proposed sanctions against service providers that will fail to block e-sabong websites.
"It should be noted that e-sabong websites hosted outside the Philippines can only be blocked, not taken down, as these sites can continue to operate via a virtual private network. The PNP is having a hard time curbing e-sabong because of the technological aspect. It's a battle of technology. Some people engaged in e-sabong are well-financed and their resources are overwhelming so I think the government should also start beefing up or strengthening its cyber capability," he said.
Azurin, meanwhile, said they continue to work with government agencies linked to information and communications technology in tackling the e-sabong menace.
"As a matter of fact, even the DICT (Department of Information and Communications Technology), NTC (National Telecommunications Commission) have been very visible, very cooperative. They are helping us in running after e-sabong operators," he said.
President Ferdinand R. Marcos Jr., in Executive Order (EO) 9 issued in December last year, ordered the continued suspension of the live streaming or broadcasting of live cockfights outside cockpits or cockfighting arenas or premises where cockfights are being held.
The order also suspends online/remote, or off-cockpit wagering/betting on live cockfighting matches and/or activities streamed or broadcast live, regardless of the location of the betting platform.
The operations of traditional cockfights authorized or licensed under existing laws shall not be covered by the suspension.
EO 9 also tasked the Philippine Amusement and Gaming Corporation to coordinate with local government units, other concerned government agencies and private entities on the implementation of the order.
Azurin said 28 people were arrested in Mandaluyong City, Lapu-Lapu City in Cebu and Santiago City, Isabela in compliance with EO 9.
He said 102 platforms catering to e-sabong have been either blocked or taken down, 76 other platforms were deleted or deactivated while 39 e-sabong websites and a Facebook page have been rendered inactive and out of service.
"Representations have been made with the DICT and NTC to take down five active websites that continue to host e-sabong games. The PNP is closely monitoring 272 platforms, comprising 146 websites, 67 Facebook accounts, 31 Facebook groups, 18 Facebook pages and 10 mobile applications used in e-sabong activities," he said.
In May last year, former President Rodrigo Duterte ordered the suspension of e-sabong operations in the wake of the disappearance of at least 34 e-sabong aficionados in the country who all remain missing to date.
Major operators of e-sabong stopped their operations. However, a number of small groups and individuals continue to use the online platform for cockfighting betting.
To date, the Criminal Investigation and Detection Group has filed cases against at least 15 personalities in connection with the missing e-sabong aficionados. (PNA)