By Christopher Lloyd Caliwan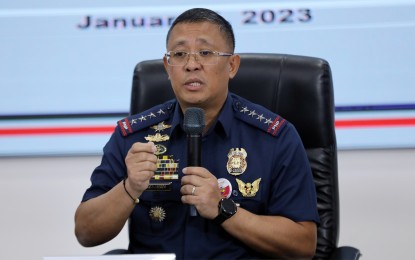 MANILA – Top officials of the Philippine National Police (PNP) led by chief Gen. Rodolfo Azurin Jr. on Thursday tendered their courtesy resignation.
The move came after Department of the Interior and Local Government (DILG) Secretary Benjamin Abalos Jr. appealed to police colonels and generals to do the same to rid the police force of those linked to illegal drugs.
Aside from Azurin, other ranking officials who submitted a courtesy resignation are deputy chief for administration Lt. Gen. Rhodel Sermonia; deputy chief for operations Lt. Gen. Benjamin Santos Jr. and chief of the directorial staff Maj. Gen. Michael John Dubria, among others.
"This call of SILG (Secretary of the Interior and Local Government) is a test of individual character. And as an answer, I am taking the lead to submit myself to such evaluation, assessment, and scrutiny by the committee. We, in the uniformed service, are trained and prepared and are expected to prioritize public service over personal interests. Similarly, I support and uphold the guidance of our beloved President Ferdinand R. Marcos Jr. to every policeman to keep our integrity untainted and to do our best to uphold the moral ascendancy of the PNP and to ensure the continuity of public rapport," Azurin said in a press conference at Camp Crame.
He said PNP Internal Affairs Service director Alfegar Triambulo, a civilian, will also submit a courtesy resignation.
"The appeal for courtesy resignation particularly addressed to our senior officers is a wakeup call to all PNP members, to reflect on how and what has happened in our respective careers. We must contemplate among ourselves if our contributions to the PNP have made it better or worse in the eyes of the public we oath to serve," he added.
Azurin said all colonels and generals of the police force have until Jan. 31 to submit their courtesy resignation.
A five-member committee which is independent of both PNP and DILG will be handling the assessment and evaluation process.
"We respectfully demand the members of the said committee to maintain their reputation of impeccable character, probity, fairness, and unquestionable integrity throughout the process. At least they are reminded of the careers, reputations, families and even lives of these third-level officers, built for 30 years or more, depending on their hands," Azurin said.
Azurin, meanwhile, said "less than 10" officials are on the "list" of those who are allegedly involved in illegal drugs. He did not name them.
He said police officials who would be cleared after the vetting process would be made public.
"Definitely we will inform the public so that nobody will tell us, 'it's only you and your colleagues inside the organization who conducted the probe'," Azurin noted, adding that he already discussed the matter with President Ferdinand Marcos Jr.
Azurin also said the process will not affect the benefits of officials who are already due for retirement.
"They get their commutation of leaves accumulated through the years, they will receive their pension, until the trial is not over until they are convicted and that conviction will reach up to the SC (Supreme Court) for finality," he said.
IAS, IMEG, PDEG restructuring
Azurin also ordered a restructuring of IAS, Integrity Monitoring and Enforcement Group and the PNP Drug Enforcement Group whose functions are mainly focused on internal cleansing and the anti-drug drive.
"And to give more teeth to our disciplinary machinery, our processes in IAS must be further improved to pave the way to a speedier disposition of cases," he said.
Azurin said a stronger vetting process among personnel of these units and among all key positions in the PNP will be implemented with strong resolve.
"Similarly, our counterintelligence efforts must step up to protect the integrity of all police undertakings," he added.
Support from units
Meanwhile, the National Capital Region Police Office (NCRPO) and the Criminal Investigation and Detection Group (CIDG) expressed support for Abalos' call.
"We believe that the said radical approach to full-fledged colonels and generals will greatly affect the organization in cleansing the ranks and will further improve the operations on the grounds," NCRPO chief Gen. Jonnel Estomo said in a statement, adding that he has already tendered his courtesy resignation.
CIDG chief Brig. Gen. Ronald Lee said CIDG officers who have an untarnished reputation and integrity should heed the call of the DILG chief.
"Our reputation reflects who we are. As an officer and a gentleman, I accept the challenge of SILG. As a member of the PNP, I support whatever the decision of the PNP Chief," he said. (PNA)