By Christopher Lloyd Caliwan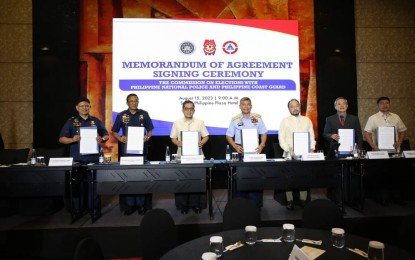 MANILA – The Philippine National Police (PNP) has monitored 27 "areas of grave concern" for the Barangay and Sangguniang Kabataan Elections (BSKE).
These areas would be classified under the red category of the election hotspot list, PNP deputy chief for operations Lt. Gen. Michael John Dubria said during the joint press conference with the military and the Commission on Elections on Tuesday.
The areas are under the election hotspot list which has four categories — green, yellow, orange and red.
"We have some figures here but this is still to be submitted to the Comelec en banc for approval but for a bird's eye view of our election areas of concern, we have four categories. We have category green has 37,683, which is election with no area of concern. For yellow we have 4,085, for orange we have 232 and for red we have 27 but these figures were based on past elections. So this is just a ballpark figure that is supposed to validate some more together, we have to get the approval of the Comelec en banc. So as of the moment that is the information that we can provide," Dubria told reporters.
Green refers to areas that do not have security concerns and are generally peaceful and orderly, while yellow are areas of concern, which means that these have a history of election-related incidents in the last elections, possible employment of partisan armed groups, the occurrence of politically motivated election-related incidents and had been previously declared under Comelec control.
Orange, meanwhile, means areas of immediate concern where there is a serious armed threat; while red means areas of grave concern, which exhibit combined factors under the yellow category with serious armed threats that may warrant the motu proprio (on its own) declaration of Comelec control.
In the same briefing, PNP chief Gen. Benjamin Acorda Jr. said they are also keeping a close watch on the province of Negros Oriental and areas in the Bangsamoro Autonomous Region in Muslim Mindanao (BARMM), noting that security adjustments would be made in these areas as the need arises.
Acorda also said the PNP started identifying policemen whose family members and other relatives are planning to run for the BSKE elections in October this year.
Acorda said the identification of the policemen will serve as a major factor in the adjustment of assignments on the days leading to the elections.
"We identified these police officers to really make sure that they will not become partisan in this forthcoming election," said Acorda during a joint press conference.
The intention, according to Acorda, is to isolate all PNP from partisan politics amid past experiences wherein the barangay elections are considered the most challenging in terms of security and peace and order.
The filing of certificates of candidacy for the BSKE will start on Aug. 28 until Sept. 2 and by that time, the PNP hopes to come up with a list of all their personnel whose relatives are running for the local posts.
"We will make some adjustments before the election ban comes," said Acorda.
Acorda also assured that the police force is ready to secure the barangay elections, adding that security measures are now being conducted for their goal of zero violence.
Among them are the aggressive campaign against private armed groups and the campaign against loose firearms.
The election period for the Oct. 30 village and youth polls will run until Nov. 29 while the campaign period is set from Oct. 19 to 28. (PNA)