By Christopher Lloyd Caliwan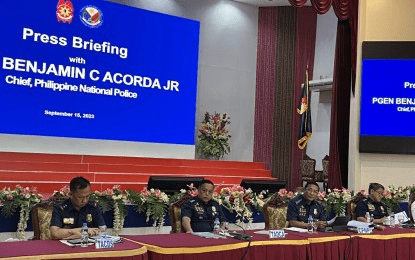 MANILA – The Philippine National Police (PNP) has listed 249 "areas of grave concern" for the Barangay and Sangguniang Kabataan Elections (BSKE).
In a press briefing at Camp Crame on Friday, PNP deputy chief for operations Lt. Gen. Michael John Dubria said these areas would be classified under the red category of the election hotspot list.
The areas are on the election hotspot list which has four categories — green, yellow, orange and red.
"We have some figures here out of the 42,000 barangays from the list that was given to me by the DI (Directorate for Intelligence). We have under the red category for the PNP, we have 249 barangays under the red category, (for) the orange category we have 1,344 and yellow category we have 1,010 barangays," Dubria said.
Green refers to areas that do not have security concerns and are generally peaceful and orderly, while yellow are areas of concern, which means that these have a history of election-related incidents in the last elections, possible employment of partisan armed groups, the occurrence of politically motivated election-related cases and had been previously declared under Commission on Elections (Comelec) control.
Orange, meanwhile, means areas of immediate concern where there is a serious armed threat; while red means areas of grave concern, which exhibit combined factors.
Dubria, meanwhile, said the PNP and the military would convene the National Joint Security Control Center (JSCC) soon to reconcile their records regarding the election hotspot list.
"We will be reconciling our records and jointly we will be submitting it to the Comelec for the BSKE 2023 and the Comelec chair, will in turn, be submitting it to the Comelec en banc for final approval," he added.
PNP chief Gen. Benjamin Acorda Jr. said only four out of a total of 27 incidents reported to them were confirmed as election-related incidents (ERIs)
The four confirmed ERIs happened in Taal, Batangas; Libon, Albay and in the towns of Malabang and Piagapo, both in Lanao del Sur.
Acorda said 286 firearms have been confiscated at checkpoints while 456 persons were arrested since the start of the election gun ban on Aug. 28.
During this period, the Comelec mandates the suspension of activities involving the carrying of firearms or other deadly weapons and the employment of security personnel or bodyguards by incumbent public officials, whether elected or appointed, as well as private individuals.
To facilitate the application for the issuance of a Certificate of Authority for Security Detail, eligible individuals, including incumbent public officials and private citizens, are encouraged to submit their requests online through the Comelec website.
The electronic filing system has been operational since June 5 and will remain open until Nov. 15. (PNA)