By Christopher Lloyd Caliwan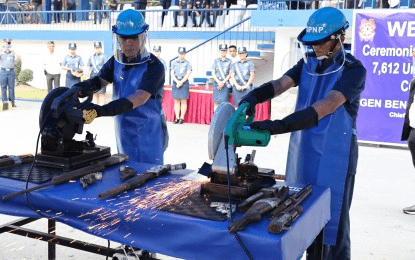 MANILA – The Philippine National Police (PNP) has destroyed a total of 7,612 beyond economical repair (BER), which include confiscated, captured, surrendered, deposited, abandoned and forfeited-turned PNP property firearms (CCSDAF-TPPF).
PNP chief Gen. Benjamin Acorda Jr. led the ceremonial demilitarization of assorted discarded firearms at the PNP Grandstand, Transformation Oval in Camp Crame, Quezon City on Monday afternoon.
Acorda said the importance of demilitarization with its main goal of thwarting any future illicit use of firearms.
"By destroying these weapons, we completely eliminate any possibility of them falling into the hands of criminals and being used as instruments of violence. Our intention is not to erase their history, but to repurpose their existence for the betterment of our society," Acorda said.
"This ceremony signifies our determination to create a safer environment for our communities. It is a clear message to those who wish to disrupt our peace and stability that we are relentless in our pursuit of justice. The removal of these firearms from circulation reinforces our resolve to protect our citizens, maintain law and order, and ultimately build a peaceful society," the PNP chief added.
The process involved the cutting of individual steel pieces using a circular saw, rendering the firearms permanently inoperable. This stringent measure guarantees that these firearms could not be used again for unauthorized purposes.
The Logistics Support Service, responsible for the disposal of all Beyond Economic Repair (BER) PNP properties, oversaw the demilitarization process. It began with an extensive inventory and technical inspection of the 25,476 units of CCSDAF from Feb. 8, 2021, to Jan. 25, 2022.
Subsequently, demilitarization activities were carried out in several batches. The first batch demilitarized 6,338 units, followed by 5,000 units in the second batch, and 6,526 units in the third batch. The ceremonial demilitarization event concludes the process with the remaining 7,612 units of BER CCSDAF-TPPF.
In adherence to PNP policies and guidelines on property disposal, the scrap and waste materials resulting from the demilitarization process will be disposed of through a public bidding process.
The proceeds generated from the auction will be deposited in the PNP Trust Receipt Account.
These funds will be utilized to support the various plans and programs of the PNP organization, further strengthening law enforcement capabilities and promoting public safety. (PNA)