By Joyce Ann L. Rocamora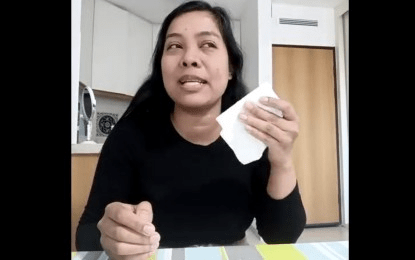 MANILA – The Filipino caregiver who willingly gave her savings to convince a Hamas terrorist to spare her and her elderly ward is finally flying home to the Philippines soon.
In a virtual interview with reporters on Tuesday, 31-year-old Camille Jesalva said the Philippine Embassy in Israel has offered her a seat in the government's next repatriation flight.
Jesalva was alone with her 95-year-old ward Nitza Hefetz at their residence in a kibbutz in Nirim when the Hamas terrorist group mounted a deadly cross-border attack against Israel on Oct. 7.
From the morning of Oct. 7 until they were rescued by the Israeli Defense Forces in the afternoon, different Hamas members entered their home at least four times.
Jesalva, who was hiding in a safe room with Nitza, said the terrorists missed them the first three instances.
"Before 12, the fourth one entered. 'I'm dead' I'm already thinking like that and then Nitza heard the commotion and shouted to close the door," she narrated.
Attempting not to upset their trespasser, Jesalva pleaded for understanding that Nitza was old and that "she don't know anything".
Without hesitation, she emptied out her wallet and gave the money to the armed man –money that she was supposed to give to her family when she returns to the Philippines.
"He asked if there was more money and I said no more and then after that, he got out the room," she recalled.
Throughout that nerve-racking experience, Jesalva said she was thinking about her only child in the Philippines.
"Hiningi ko po 'yong picture ng anak ko kasi alam ko na hindi na ako mabubuhay, gusto ko 'yong last na image na makikita ko 'yong anak ko (I already asked the picture of my child thinking that would be my final moment, I wanted that the last image that I will see is my child)," she said.
"Ayoko pa pong mamatay, kawawa 'yong anak ko (I don't want to die because what will happen to my kid)," she added.
Jesalva said she will go on a vacation to the Philippines and spend the holidays with her kid but promised to still return to Israel to take care of Nitza. (PNA)