By Stephanie Sevillano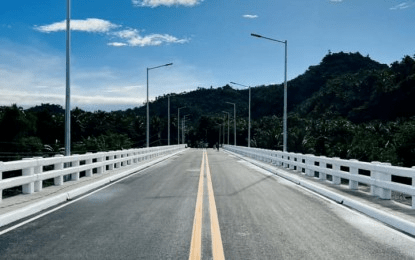 MANILA – To further spur economic vibrance, the Marcos administration cited on Monday the prioritization of physical connectivity under the country's PHP8.3 trillion-worth of "Build Better More" program.
During the second State of the Nation Address (SONA), President Ferdinand R. Marcos Jr. said the infrastructure spending shall be around 5 to 6 percent of the country's gross domestic product (GDP), with its majority allocated for physical connectivity.
"Physical connectivity infrastructure such as roads, bridges, seaports, airports, and mass transport, accounts for 83 percent of the program," he said.
These infrastructures are also targeted to be inter-modal or interconnected.
"Roads, bridges, and mass transport systems will be interconnected. This network will provide access and passage to vital and bustling economic markets, such as agriculture hubs, tourism sites, and key business districts," he said.
Marcos mentioned how it shall contribute to the persistent economic growth of the Philippines.
"The underlying logic to our infrastructure development is economic efficiency. We are opening up all gateways to mobilize goods and services at less cost and in less time, and ultimately, to drive the economy," he added.
The chief executive said that 123 out of the 194 projects under the "Build Better More" program are new.
He noted that these road infrastructure projects are not only limited to securing network links between Luzon, Visayas and Mindanao but also to establishing connectivity in the country's prospective economic sites for cost-effectiveness.
Initially completed
Marcos, meanwhile, mentioned several infrastructure projects that have been completed thus far in the first year of his term.
As of June, the administration recorded the completion of some transport projects in land, air, seaports and railways.
"We have constructed, maintained, and upgraded more than 4,000 kilometers of roads and around 500 bridges across the country. Crucial airport and port development projects across the country have been completed, including Cebu's Pier 88 smart port, and the new passenger terminal buildings of Clark Airport and the Port of Calapan," Marcos said.
The southern leg of the North-South Commuter Railway system was also reported to be in full swing.
This is part of the overall railway project which aims to drop the travel time from Pampanga to Laguna to two hours, from its current four-hour travel time.
To date, the administration has initiated over a thousand-kilometer length of railway projects in the country.
Major infrastructure targets
Marcos also disclosed the 1,200-km. Luzon Spine Expressway Network Program, which aims to speed up the transport time from 20 to nine hours, all the way from Ilocos Region to Bicol.
Inter-island bridge programs were also eyed to be completed under the Mega bridge program.
"The Program notably includes the Bataan-Cavite Interlink Bridge and the Panay-Guimaras-Negros Island Bridges, each spanning 32 kilometers, and the Samal Island-Davao City Connector Bridge," he said.
To sum, the administration plans to construct 12 bridges totaling 90 kilometers.
Besides flagship projects related to physical connectivity, the Marcos administration also vowed to include infrastructure development in key areas including "water resources, agriculture, health, digital connectivity and energy."
He said the Filipino people shall benefit from these projects, particularly on its impact on economic growth. (PNA)