PHL palay output up by 4.61%
Friday, May 18th, 2018. Filed under:
News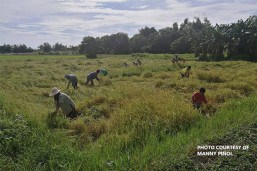 MANILA, May 12, 2018 – Philippine palay production has continued to improve on the back of various agricultural government programs, the latest report from the Philippine Statistics Authority (PSA) has revealed.
The PSA data released Friday showed the January-March production of palay nationwide rose by 4.61 percent to 4.62 million metric tons (MT) from the 4.42 million MT production in the same period in 2017.
The country's palay output was also higher in the first quarter of 2017 compared with the 3.9 million MT produced in the same period in 2016.
"Most regions had expansion in harvest areas because of the use of high-yielding varieties of seeds from the Rice Program Model Farm of Department of Agriculture (DA), adequate irrigation water supply, and sufficient rainfall during the planting period," the PSA's first quarter report said.
Financial assistance from the DA and LGUs also helped boost farmers' output, the PSA added.
The PSA noted such financial assistance was through the DA's Production Loan Easy Access and Special Assistance for Agricultural Development programs, as well as from the Bottoms-up Budgeting Program in Mimaropa, Davao, and Soccsksargen regions.
"In Cagayan Valley, there were reports of early harvest from the second quarter to the first quarter as a result of higher trading
price," PSA report said.
The increase in palay production contributed to the 1.79 percent rise in the crops sub-sector's January-March output this year, the PSA added.
The crops sub-sector accounted for 53.76 percent of total Philippine agricultural output during the period, based on the PSA data.
Livestock, poultry, and fisheries sub-sectors accounted for 16.96 percent, 15.93 percent, and 13.36 percent, respectively.
The PSA said the January-March Philippine agricultural output grew 1.47 percent in 2018 from a year ago. (PNA)