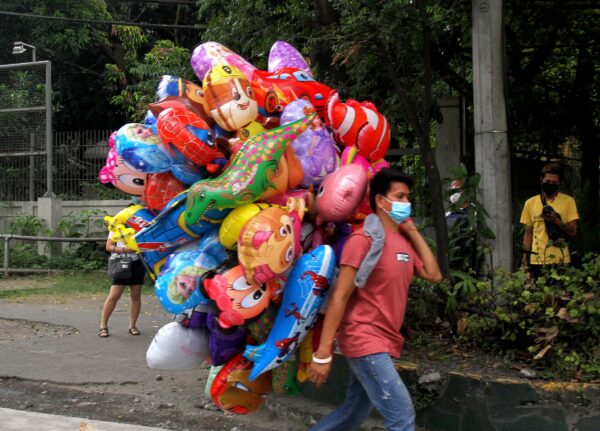 MANILA, Nov 19 (Mabuhay) — The Philippines on Thursday posted 1,297 additional COVID-19 infections, bringing the country's total caseload to 2,821,753.
According to the Department of Health (DOH) case bulletin, the active case tally was at 23,158, the lowest since January 12, 2021 with 23,532.
Of the count of active tally, 58.8% were mild, 4.1% were asymptomatic, 19.96% were moderate, 12.2% were severe, and 5.2% were in critical condition.
The Philippines also registered 1,956 new recoveries and 305 more fatalities, raising the total count of recoveries and deaths to 2,752,173 and 46,422, respectively.
Of the 305 newly-reported deaths, 36 occurred in November 2021, DOH said. A total of 44% of the new deaths were in October 2021 and 35% in September 2021, the DOH also noted.
These delayed reporting of new deaths were due to "late encoding of death information," the health department said.
"This issue is currently being coordinated with the Epidemiology and Surveillance Units to ensure information is up to date," the DOH said.
Further, the country's positivity rate went down to 3.4% from 3.5% recorded on November 17, Wednesday.
The World Health Organization recommended a target of less than 5% positivity rate as recording 5% or higher indicates high virus transmission.
Nationwide, the Philippines' healthcare utilization system is still below 50%, with 34% occupancy rate for intensive care units and 28% utilized isolation beds.
Similarly, the utilization rate of intensive care units in Metro Manila is at 32% while isolation beds are at 24% occupancy rate.
DOH also recently deleted 38 duplicates, including 36 recoveries, from the country's total case count. It also revised 278 recoveries to deaths after final validation.
As of November 16, all laboratories were operational but four labs were not able to submit their data to COVID-19 Document Repository System (CDRS). In the last 14 days, these non-reporting labs contribute, on average, 0.8% of samples tested and 0.3% of positive tests.(MNS)
READ NEXT: NCR likely under Alert Level 1 by December if trend holds — OCTA