PhilHealth execs told to quit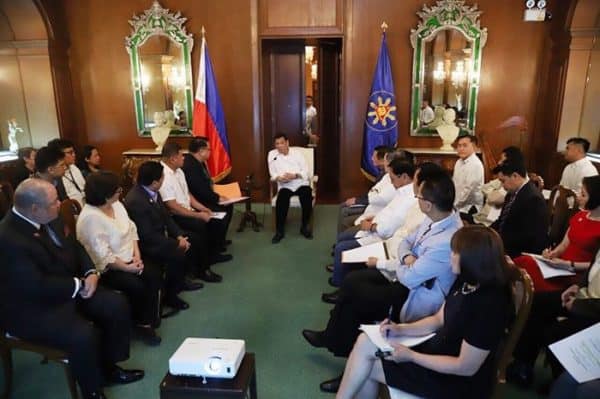 PhilHealth execs told to quit
by THE MANILA TIMES
Go: Duterte 'really wants a revamp'
President Rodrigo Duterte had asked officials of state-owned Philippine Health Insurance Corp. (PhilHealth) to resign in the wake of a "ghost dialysis" scandal, his former aide and spokesman said on Monday.
In a statement late Monday night, Salvador Panelo said the President's move would allow the agency to have a clean slate and showed his "zero tolerance on corruption under this administration."
Panelo said there would be an "in-depth study on how the frauds are systematically committed by unscrupulous persons in and out of PhilHealth."
"There will be criminal prosecutions of all those involved. No one will be spared," Panelo said.
He assured the public that the services of PhilHealth would remain "unhampered," as "second-level officials" were tasked to operate the agency pending the findings of the National Bureau of Investigation into the controversy.
Panelo's statement came a few hours after the Palace spokesman announced that Duterte still had "full trust" in PhilHealth President Roy Ferrer.
In a separate press briefing on Monday afternoon, Senator-elect Christopher Lawrence "Bong" Go claimed the state firm was up for an extensive overhaul.
"The President really wants a revamp," he said in a press conference, adding that Duterte wanted a new PhilHealth chief who could properly implement the recently signed Universal Health Care (UHC) Law.
Duterte was met with PhilHealth executives later in the afternoon and confirmation of Go's announcement was not immediately forthcoming from the Palace.
Earlier on Monday, Panelo told reporters in Malacañang that Duterte had "no doubt on the integrity of the president of PhilHealth."
Still, he said "anything is possible" and stressed that the President "certainly wants to clean up alleged irregularities" in the firm.
"We do not know what will happen, that is up to the President. But, given that he's publicly acknowledged his trust in the [PhilHealth] president, I do not think there will be [any sacking,]" Panelo said.
PhilHealth chief defiant
Ferrer, meanwhile, issued a statement declaring that organized irregularities would not thrive in PhilHealth under the Duterte administration.
"Our top management executives, who are directly under me, are loyal to the higher ground principles and policies of PhilHealth, and no villainous mafia member can survive within their ranks," he declared.
He also said claims by a former Health department official that a mafia existed were "a thing of the past" that "no longer exists in the present PhilHealth and under the strong government of President Duterte."
A campaign against "cheating, disloyal and disgruntled PhilHealth officers, who have colluded with hospitals and other healthcare facilities" is ongoing and "this syndicate will soon disintegrate," Ferrer added.
'This is unacceptable'
Go, however, said PhilHealth management had let corruption "slip through their fingers."
"This is unacceptable. Come to think of it, there are dead people still claiming [funds] from the government," he added.
Weighing in on the issue, outgoing Sen. Joseph Victor "JV" Ejercito reiterated a recommendation that a financial expert be tapped to head PhilHealth.
"What PhilHealth needs is sound financial management, specially as we are about to implement the UHC [Law]," he said in statement on Monday.
Ejercito, the principal sponsor of the law, said PhilHealth had long been milked by unscrupulous individuals, pointing to the diversion of some P10 billion during former president Benigno Aquino 3rd's administration.
Ready to quit
Also earlier on Monday, PhilHealth deputy spokesman Rey Baleña said the firm's officials were prepared to step down if asked to do so by Duterte.
"Sa ngayon, wala pa pong nagre-resign ngunit kung hihingin ni Pangulo na maghanda ng courtesy resignation, nakahanda kaming gawin 'yun (For now, nobody has volunteered to resign, but if the President asks us to prepare a courtesy resignation, we are willing to do that)," he said.
Baleña reiterated that a shakeup was not needed for now, as an overhaul would be implemented in September once the UHC Law's implementing rules were finalized and took effect.
PhilHealth also disputed a newspaper report that it had lost P154 billion over the last six years due to overpayments to "ghost" patients.
It has claimed that the loss was much lower at P51.2 billion, but Baleña said the "available evidence" only point to a missing P300 million.
NBI starts probe
The "ghost dialysis" scandal revolves around WellMed Dialysis and Laboratory Center Corp., which reportedly continued to bill PhilHealth for treatments of patients who already died.
A lawyer for WellMed went to the National Bureau of Investigation (NBI) on Monday and said his clients would comply with a subpoena.
Two former WellMed employees who accused the clinic of fraud also appeared and claimed they had ample evidence. Reports also said that WellMed owner Brian Sy, who earlier told The Manila Times that the whistleblowers were the ones behind the scam, had been arrested by the NBI. (TMT)