By Priam Nepomuceno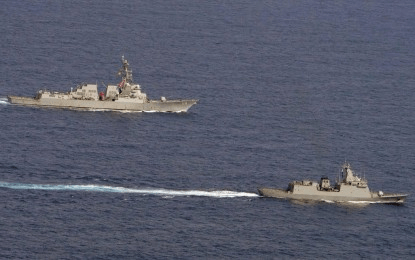 MANILA – Filipino and American warships are currently conducting a "bilateral sail" in waters off the western part of Palawan province, the Armed Forces of the Philippines (AFP) announced on Monday.
Lt. Col. Enrico Gil Ileto, AFP public affairs office chief, said the activity highlights the "robust maritime cooperation" between the two nations.
"The activity is done under the Mutual Defense Board – Security Engagement Board framework that aims to develop operational interoperability between the navies of the two countries," he said in a statement.
Ileto said the AFP deployed the Navy's guided-missile frigate, BRP Jose Rizal (FF-150) while the US Navy deployed the Arleigh Burke-class guided-missile destroyer, the USS Ralph Johnson (DDG-114).
He also said the AFP Western Command's Naval Task Force 41 and the US 7th Fleet will carry out a "division tactics" rehearsal aimed at enhancing interoperability between the two navies.
"In particular, this event aims to provide an opportunity for the Philippine Navy and the US Indo-Pacific Navy to test and refine existing maritime doctrine and demonstrate their defense capabilities in line with the shared commitment of upholding peace and security in the Indo-Pacific Region," Ileto said.
He said the AFP will continue to be involved in "bilateral and multilateral activities" that will contribute in further developing its capability to perform its mission of protecting the country's national sovereignty and national territory. (PNA)