By Priam Nepomuceno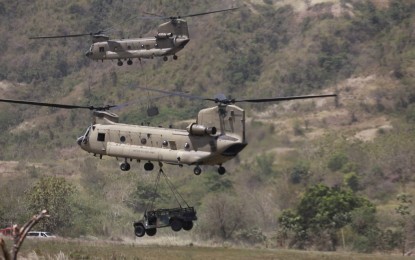 MANILA – Philippine Army (PA) and US Army Pacific (USARPAC) troops conducted "sling load exercises" involving helicopters last March 27 as part of this year's "Salaknib" drills.
In a statement Tuesday, PA spokesperson Col. Xerxes Trinidad said these maneuvers involving an assortment of helicopters took place at the Sagana Patrol Base, Fort Magsaysay, Nueva Ecija.
"The highlight of the exercise is the sling load training where soldiers rigged up pieces of artillery, military trucks and crates onto all-weather, medium-lift 'Chinook' and 'Black Hawk' choppers using sling sets, cargo nets, and other specially designed equipment," he added.
Trinidad said sling loading equipment allows units to avoid obstacles that may hinder them from promptly reaching their target destination.
"The technique is also used to reach areas where the use of convoys is impractical or unfeasible," he added.
On March 25, the PA and the USARPAC also conducted a helocast exercise — an airborne technique that allows special operation forces (SOF) to insert into an area by jumping directly from a helicopter into water — as part of the ongoing "Salaknib" exercise.
He added that the helocast exercise is part of the ongoing first phase of Salaknib which will precede the "Balikatan" exercises slated in the second week of April
The second phase of "Salaknib" is scheduled for the third quarter of 2023.
"Salaknib" which means shield in Ilocano is an annual combined exercise between the PA and the USARPAC, is geared at bolstering interoperability between the two land forces.
Around 3,000 Filipino and Americans soldiers are participating in these exercises which started March 13 and will conclude on April 4. (PNA)