By Priam Nepomuceno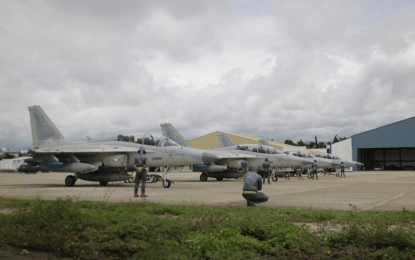 MANILA – Filipino and American military aircraft conducted air combat and maritime interdiction tactics over the skies of Visayas and Mindanao as part of the aerial exercises of Cope Thunder 2023-2.
"A number of aircraft from the Philippine Air Force (PAF) and (US) Pacific Air Force (PACAF) soared into the skies of Visayas and Mindanao during various flight missions under Cope Thunder 2023-2 from July 12-15, 2023," Air Force spokesperson Col. Ma. Consuelo Castillo said in a statement Monday.
Participating PAF aircraft consisted of four FA-50PH light jet fighters and two A-28B "Super Tucanos", while five A-10 "Warthogs" came from the PACAF.
These aircraft departed Clark Air Base, Mabalacat City, Pampanga last July 11 for Brig. Gen. Benito N. Ebuen Air Base in Lapu-Lapu City, Cebu as preparation for the air drills over Mactan and General Santos City.
The deployment also serves as a simulation of the 5th Fighter Wing's deployment for next year's "Pitch Black" exercises in Australia.
"Flight exercises included air interdiction and maritime target (AIMT) to enhance the pilots' skills on tactical air-to-surface/ground operations against enemy objectives and air combat maneuvers(ACM), also known as 'dogfighting', to enhance skills in air-to-air combat," Castillo said.
No other details were immediately available for security reasons.
One of the highlights of the exercise is the so-called "hot refueling operations" where the aircraft engines kept running throughout the process, allowing the aircraft to quickly return to its mission or flight.
"Known also as 'hotpit' operations, these are especially beneficial in time-sensitive situations where minimizing ground time is crucial," the PAF spokesperson said.
The Cope Thunder exercises started on July 2 and will run until July 21.
The first iteration of Cope Thunder for this year took place May 1 to 12 and focused on mission planning capabilities and execution of defensive and offensive counter-air operations utilizing fighter and cargo aircraft.
The original Cope Thunder exercises, which provided regular flight training for US pilots and those of allied nations, were first held in 1976 and continued annually in the Philippines until 1990.
Earlier, the PAF's 960th Air and Missile Defense Group (960th AMDG) participated in a three-day subject matter expert exchange (SMEE) on Integrated Air and Missile Defense (IAMD) which was held from July 10-12 at Basa Air Base, Floridablanca, Pampanga.
This served as a forum for the 960th AMDG and the United States Air Force Pacific Integrated Air and Missile Defense Center to share their best practices and the latest information pertaining to IAMD.
"A series of presentations by experts from both air forces covered topics such as air domain awareness, mission planning considerations, rules of engagement, ID matrix, and passive defenses. The presentations provided valuable insights into the challenges and advancements in the field of IAMD," Castillo said.
A criticality vulnerability and threat (CVT) workshop also took place, focusing on critical assets list (CAL) and defended asset lists (DAL).
"This workshop allowed participants from both teams to actively engage in hands-on exercises, simulations, and scenario-based discussions. The collaborative environment fostered a vibrant exchange of ideas and facilitated a deeper understanding on the intricacies of conducting air and missile defense operations effectively," Castillo said. (PNA)