By Ruth Abbey Gita-Carlos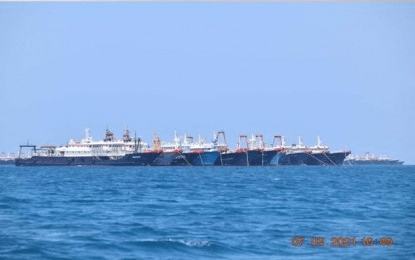 MANILA – President Ferdinand R. Marcos said on Friday the government will take appropriate action on China's release of its new map, which features a 10-dash line covering a large part of the South China Sea (SCS), including the Philippines' exclusive economic zone in the West Philippine Sea (WPS).
"Now, once again, we have received the news that now, the nine-dash line has been extended to the 10-dash line. We have to respond to all of these and we will," Marcos said in a media interview on the sidelines of an event in Puerto Princesa City, Palawan.
Marcos refused to elaborate on the "operational details" about the actions the Philippines would take.
His statement came in the wake of China's release of its updated "standard map" with a U-shaped 10-dash line showing its extensive claims to SCS.
The map illustrates China's supposed ownership of WPS, as well as Taiwan and India's northern state of Arunachal Pradesh and the Aksai Chin region.
"The Indian National Congress takes strong objection to any such illegal representation or renaming of India's territories," Congress president Mallikarjun Kharge posted on social media platform X (formerly Twitter) on Wednesday.
"This is not the first time China has made such an attempt. We reject this outright," added Arindam Bagchi, India external affairs ministry spokesperson, in another X post. "Arunachal Pradesh is, has been and will always be an integral and inalienable part of India. Attempts to assign invented names will not alter this reality."
Marcos said the Philippines would not relinquish its territorial claims in the hotly contested waters, stressing that the government would remain consistent in asserting its ownership of the WPS.
"Ngayon (Now), of course, we'll continue to defend our territorial sovereignty, our territorial rights. We have not changed our approach. It is other countries around us that have changed their approach," he said.
Marcos said the United Nations Convention on the Law of the Sea (UNCLOS) gives the Philippines a "very solid" basis to defend its territorial rights over WPS.
"We have to stay true to the rules-based international law, especially the UNCLOS. That I think puts us on a very solid ground in terms to our claims for territorial sovereignty, for maritime territory. And this has been validated and supported by many, many countries around the world," he said.
"And I think we need to strengthen that. That again is very big help to the Philippines in continuing to defend our maritime borders," Marcos added.
The UNCLOS, adopted in 1982, lays down a comprehensive legal framework governing all activities and uses of the world's seas and oceans. It also establishes general obligations for safeguarding the marine environment and protecting the freedom of scientific research on the high seas.
In a Palace briefing on Thursday, Foreign Assistant Secretary for ASEAN Affairs Daniel Espiritu said Marcos will push for the issuance of a joint statement of the Association of Southeast Asian Nations on China's recent actions in SCS and release of its 2023 standard map.
Also on Thursday, National Security Adviser Eduardo Año said the Marcos administration is committed to protecting the Philippines' territorial integrity and national sovereignty, disregarding China's new map featuring its extended claims in SCS.
The Philippines won its petition filed before the Hague-based Permanent Court of Arbitration on July 12, 2016 after the tribunal invalidated Beijing's claim of supposed historic rights over almost the entire SCS.
The Philippines, China and several other littoral states are locked in a territorial dispute over the SCS, where Beijing lays claims on around 80 percent of the strategic waters. (PNA)