By Ruth Abbey Gita-Carlos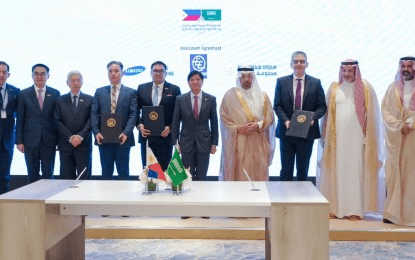 MANILA – The Philippines has secured over USD4.26 billion worth of investment pledges on the first day of President Ferdinand R. Marcos Jr.'s visit to Saudi Arabia, Malacañang said Friday.
"The Philippine business delegation signed an investment agreement worth more than $4.26 billion with Saudi business leaders on Thursday," Communications Secretary Cheloy Garafil said in a statement, citing the Department of Trade and Industry's list of Saudi companies that partnered with Philippine firms.
Garafil said Saudi Arabia's Al Rushaid Petroleum Investment Company and Samsung Engineering NEC Co. Ltd. signed a USD120-million worth of business deal with the Philippines' EEI Corp. for construction export services.
She said Riyadh-based Al-Jeer Human Resources Company-ARCO is also seeking a partnership with the Association of Philippine Licensed Agencies for the Kingdom of Saudi Arabia for human resource services, signing an investment pledge amounting to USD3.7 billion.
She added that Maharah Human Resources Company, located in Riyadh, inked an investment agreement worth USD191 million each with the Philippines' Staffhouse International Resources Corporation and E-GMP International Corporation for human resource services.
In a roundtable discussion with Saudi's top business leaders in Riyadh on Thursday, Marcos noted that the USD120-million worth of investment commitment for the construction industry will open job opportunities for more than 15,000 Filipinos.
Marcos assured the business community that his administration would provide support to current and prospective Saudi investors, citing the important legislation that helped open the Philippine economy to more foreign investments.
More partnerships
Saudi Arabia's Ministry of Investment Minister Khalid Al-Falih said Riyadh wants to boost its partnership with Manila in terms of finance, energy and petrochemicals, industry and logistics, tourism, real estate development, labor and agriculture.
"We view the Philippines as not only a critical large company that has grown — very fast country that has grown — very fast, which is important in its own right," Al-Falih told Marcos and the rest of the Philippine business delegation.
"We also see the Philippines as a bridge to the ASEAN (Association of Southeast Asian Nations) region and to the rest of Asia and I trust that you consider Saudi Arabia as well, Your Excellency, your strategic entry point to the Middle East," he added.

Al-Falih lauded the Marcos administration's efforts to pursue mobile finances and make the Philippines a cashless society by 2030, saying the Saudi government could also impart knowledge to "highly successful banking sector."
Interest about MIF
Al-Falih bared that Saudi's business leaders are particularly interested in the Maharlika Investment Fund (MIF).
Among those who expressed interest during the roundtable meeting were Saudi Arabia's Public Investment Fund executive general manager Mulhan Albakree and Jada chief executive officer Bandar Al Hamali.
Jada is one of Saudi's biggest investment firms.
"We want to connect you to key Saudi investors with impressive success stories to share and with the desire to continue building with international presence by investing with partners across the globe, the Philippines being a key one," Al-Falih said.
"I am pleased that we are joined today by leaders and the sector from Saudi Arabia who are eager to learn more about the investment, opportunities and one of ASEAN's most exciting markets and learn more about the newly-launched Maharlika Investment Fund that you have launched under your administration," he added.
Marcos urged Saudi businessmen to invest in the MIF, telling them that it is the Philippines' first-ever sovereign investment fund "designed to drive long-term economic development through increased investments in high-impact sectors." (PNA)