By Miguel Gil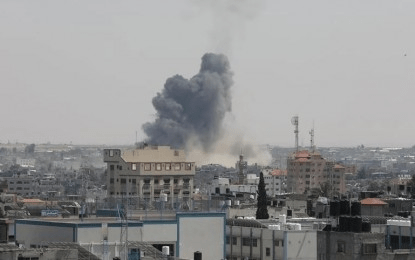 MANILA – The sudden outbreak of hostilities between the state of Israel and Hamas militants does not pose an immediate economic threat to the Philippines, but financial market analysts warned that a protracted conflict will eventually affect oil prices, bilateral trade and overseas Filipino workers' (OFW) remittances.
In an interview, Jeng Calma, operations head at A&A Securities noted that the stock market was down only seven points or 0.12 percent after Monday's trading, and this miniscule decline cannot be directly attributed to market jitters arising from the crisis in Israel.
She recounted how the market reacted quickly and very negatively when Russia invaded Ukraine in 2021, but the same panic in the financial and capital markets was not felt today.
Calma also observed that the exchange rate between the Philippine peso and the US dollar did not see any wild swings.
"It's only the first trading day of the week, let's see what happens in the coming days," she said.
For his part, Astro Del Castillo, managing director of First Grade Finance, called the USD4.00 per barrel spike in world crude prices immediately after news broke out about the attack on Israel a "knee-jerk reaction."
He said the international oil market is likely to settle down as soon as investors are able to digest the full scope of the Israeli-Hamas crisis, provided the renewed Gaza Strip hostilities do not drag on for too long.
It was also mentioned that far from going up, local pump prices are actually scheduled to roll back on Tuesday.
Oil firms have announced a PHP2.45 per liter decrease in diesel and a PHP3.05 per liter rollback in gasoline.
However, protracted fighting between Israeli forces and Hamas fighters may eventually threaten foreign remittances, if OFWs based in Israel are forced to come home, said del Castillo, who is also the chairman of Frontier Oil Corporation (Philippines).
Government data shows that OFWs in Israel remitted almost USD111 million in 2022; USD120 million in 2021; and USD98 million in 2020.
Additionally, should Israel again enter another long period of fighting in its already turbulent history, burgeoning trade between Manila and Tel Aviv is likely to diminish.
"Trade between the two countries (Israel-Philippines) currently ranges from around USD200 to USD250 million annually. They (Israel) buy agricultural goods and textiles from us (among others)… we buy ICT (information and communications technology) equipment, machinery and weapons from them. These will likely be affected if the crisis is not resolved quickly," del Castillo pointed out.
The economic blow will certainly be felt worldwide, even eclipsing the impact of the Russia-Ukraine conflict, if Iran and other Hamas sympathetic nations join the fight against the Jewish state, the veteran market analyst added. (PNA)