By Joyce Ann L. Rocamora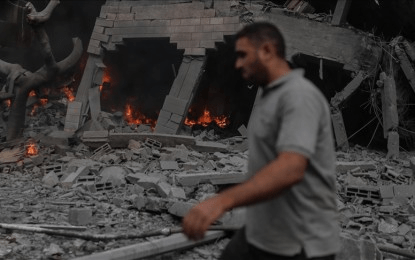 MANILA – After a communication cut, the Philippine government was finally able to get in touch with some Filipinos in Gaza who conveyed that their access to water is becoming "increasingly difficult."
"We were able to get in touch with the Filipinos starting at 4 a.m. yesterday (Sunday). We were able to contact 87 Filipinos, including 57 in Rafah," Philippine Ambassador to Jordan Wilfredo Santos said Monday.
"While their food supply is sufficient, access to water is becoming increasingly difficult."
Santos said of the 136 Filipinos in the besieged enclave, "49 Filipinos remain unreachable for now" but the embassy continues to contact them.
The United Nations agency dealing with Palestinian refugees, UNRWA, said no convoy of humanitarian aid entered Gaza on Oct. 28 due to the blackout in communications.
In the afternoon of Oct. 27 (New York time), the United Nations General Assembly adopted a non-binding resolution calling for a humanitarian truce but the past few days have seen unabated bombardment in the coastal strip as Israel pushes to dismantle the Hamas.
The Philippines abstained from voting on the resolution due to the lack of mention or condemnation of the cross-border attack launched by Hamas against Israel on Oct. 7 that killed more than a thousand, including four Filipinos.
On the sidelines of his meeting with visiting Dutch Foreign Minister Hanke Bruins Slot on Monday, Foreign Affairs Secretary Enrique Manalo again explained Manila's abstention.
"We have felt that was very important at least to recognize that these were terrorist attacks and that Filipino nationals were actually killed during that attack," he said.
Bruins Slot in the same presser said she and Manalo spoke about the Israeli-Hamas conflict and "the need for humanitarian pauses and humanitarian corridor." (PNA)