By Joyce Ann L. Rocamora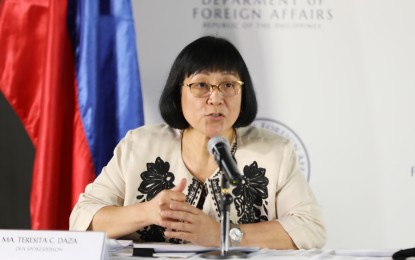 MANILA – The Philippine government, through the Department of Foreign Affairs (DFA), has expressed concern over China's latest reported reclamation activities in some unoccupied features in the Spratly Islands on the South China Sea.
Bloomberg reported Tuesday night that China is constructing on several unoccupied land features in the contested waters, citing warnings from Western officials that these latest activities indicate an "attempt to advance a new status quo, even though it's too early to know whether China would seek to militarize them."
Foreign Affairs Spokesperson Ma. Teresita Daza said the DFA is checking the veracity of the report with relevant Philippine government agencies.
"The department takes note of the Bloomberg article on reported reclamation activities by China in unoccupied features of the Spratlys. We are seriously concerned as such activities contravene the Declaration of Conduct on the South China Sea's (DOC) undertaking on self-restraint and the 2016 Arbitral Award," she said in a statement Wednesday. "We have asked relevant Philippine agencies to verify and validate the contents of this report."
The DOC, signed by China and the 10 Association of Southeast Asian Nations member states in 2002, explicitly states that all parties would exercise self-restraint from conducting activities that complicate or escalate disputes and affect peace and stability, including "refraining from action of inhabiting on the presently uninhabited islands, reefs, shoals, cays, and other features" in the South China Sea.
China and the 10-member bloc are negotiating a code of conduct, which builds upon and would serve as the upgraded version of the non-binding DOC.
In a separate statement, the Chinese Embassy in Manila tacitly denied the allegation and tagged the Bloomberg report as "fake news". (PNA)