By Priam Nepomuceno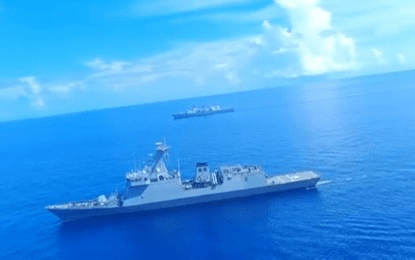 MANILA – The Philippine Navy (PN) missile frigate BRP Antonio Luna and the Royal Canadian Navy's HMCS Ottawa (FFH-341) conducted a bilateral sail activity in the West Philippine Sea (WPS), the Armed Forces of the Philippines (AFP) said in a belated report Friday.
In a statement, AFP public affairs office chief Lt. Col. Enrico Gil Ileto said the joint sail started at 7:23 a.m. Thursday when the Canadian frigate met and established radio communications with the BRP Antonio Luna in the vicinity of the Malampaya Natural Gas Platform off the waters of Palawan.
The two ships also performed maneuvers for Officers of the Watch that lasted until around 10 a.m.
"The joint sail is part of the PN's regular engagements with its partners in the Philippines' maritime zones. Bravo Zulu (Well done) to all the personnel of both ships and those who planned this activity," Ileto said.
This is the second joint sail conducted by the Philippines, with the first conducted by another PN frigate, BRP Jose Rizal (FF-150), and the United States Navy's Arleigh Burke-class guided-missile destroyer, USS Ralph Johnson (DDG-141), on Sept. 4 involving a "division tactics" mission.
Ileto said the joint sail activities signified the shared commitment of the Philippines, Canada and the US in promoting a rules-based international order in the WPS and a free and open Indo-Pacific Region. (PNA)