By Priam Nepomuceno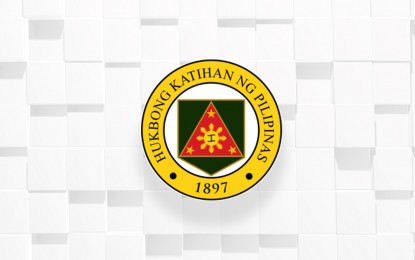 MANILA – The Philippine Army (PA) maintained that the ex-soldiers arrested and implicated in the killing of Negros Oriental Governor Roel Degamo and eight others last March 4 have long been booted out of the service for various violations of the Articles of War.
"The arrested suspects are former Army soldiers. Notably, they were dishonorably discharged from the military service several years back for serious violations of the Articles of War such as involvement in illegal drugs, absence without official leave (AWOL), and disorder and neglect to the prejudice of good order and military discipline," PA spokesperson Col. Xerxes Trinidad said in a statement forwarded to reporters Sunday night.
He was referring to the three former soldiers who were arrested by police and military personnel last Saturday — Joric Labrado, Joven Aver and Benjie Rodriguez. All three have the rank of corporal prior to their removal from the PA roster.
"The PA maintains a high standard of discipline in the performance of its mandate to serve the people and secure our land. These ex-soldiers were dishonorably dismissed from service as they did not fit into the noble profession of arms. Ever since, the Army leadership has been serious in weeding out scalawags in its ranks in order to provide the utmost and dedicated service to the people," Trinidad said.
He added that the PA supports the Philippine National Police (PNP) and other law enforcement agencies for the prompt resolution of the case.
The Armed Forces of the Philippines (AFP) also condemned the attack.
"The AFP condemns the brutal act committed by the assailants that caused the death of Negros Oriental Governor Roel Degamo and eight other civilians and the wounding of 16 others, including two of our soldiers," AFP spokesperson Col. Medel Aguilar said in a statement.
While commiserating with the families of the victims and condemning in strongest terms this cowardly act, he said the AFP will continue to extend its full support and cooperation to the law-enforcement agencies in the conduct of follow on operations and investigation for the immediate identification and apprehension of all those involved in this crime.
The Department of National Defense (DND) also deplored the attack and paid tribute to the late governor's contributions to the anti-insurgency drive.
"Governor Degamo was a firm believer in the collaboration between the local government and the security sector for the betterment of the communities in Negros Oriental. He staunchly supported our peace and development efforts under the National Task Force to End Local Communist Armed Conflict (NTF-ELCAC), especially the Enhanced Comprehensive Local Integration Program (E-CLIP) for the reintegration of former rebels to mainstream society. We extend our deepest sympathies to the family, friends and constituents of Governor Degamo, and hope they find solace during this difficult time," Defense Secretary Carlito Galvez Jr. said in a statement. (PNA)