By Priam Nepomuceno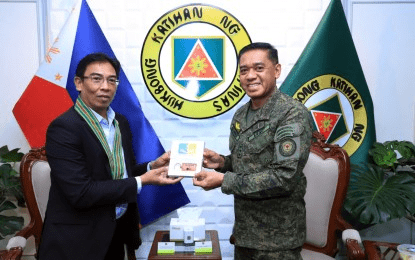 MANILA – The Philippine Army (PA) has partnered with the Commission on Human Rights (CHR) to further improve the various mental health programs and promote safe spaces at its headquarters in Fort Bonifacio, Taguig City.
This took place after the visit of CHR chairperson Richard P. Palpal-latoc to the PA headquarters on Thursday, Army spokesperson Col. Xerxes Trinidad said in a statement Friday.
"CHR chairperson, Atty. Richard P. Palpal-latoc, was delighted to announce that the PA is proactive in developing its advocacy and protection of human rights through training, information dissemination, and open dialogues with the Army officers and enlisted personnel deployed on the ground and in the garrison," he said.
Meanwhile, PA commander Lt. Gen. Romeo S. Brawner Jr. highlighted the command's creation of safe spaces in the Army, which gave importance to respect, openness, and negotiation in the face of personal and social differences among various individuals.
Likewise, the CHR also pledged to conduct regular meetings with the Army Human Rights Office (AHRO) and the Armed Forces of the Philippines Center for Law of Armed Conflict to resolve the issues and discuss related matters on human rights.
"Lt. Gen. Brawner expressed his gratitude to the CHR and AHRO for their collaborative efforts to build a safe and secure environment for civilians and military personnel," Trinidad said.
Brawner also reiterated that the leadership would continue to work together with the CHR to develop a more holistic and cohesive mental health program that would protect the well-being and resilience of soldiers in the workplace.
"The advancement of the mental health program will help the soldiers to cope with their anxieties and work efficiently to be of great service in their communities," he added. (PNA)