By Christopher Lloyd Caliwan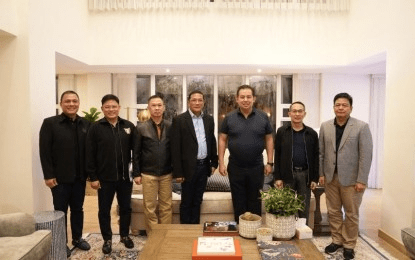 MANILA – Philippine National Police (PNP) chief Gen. Benjamin Acorda Jr. and House of Representatives Speaker Martin Romualdez on Thursday met to discuss key proposed legislation crucial to advancing the service's legislative agenda.
Topping the list of issues tackled during the meeting was the military and uniformed personnel (MUP) pension fund that is being deliberated in Congress.
Acorda pointed out that as an institution, the PNP is keenly monitoring the progress of the proposed measure whose outcome is likely to affect the force's 228,000 personnel and those already retired from the service.
"The PNP is hopeful that whatever law is crafted by our legislators will be equitable and just to all the parties concerned," he said in a news release on Friday.
Acorda said representatives of both active and retired personnel of the PNP are actively taking part in the ongoing discussions, which according to him is a positive step moving forward.
"The proposed MUP Reform Bill in the Lower House mirrors Romualdez's genuine sympathy and open-heartedness, not to mention his deep concern for the plight of MUPs and retirees," he said.
On the other hand, Romualdez assured the PNP chief that Congress would be "reasonable" in crafting a law that is fair to all parties concerned.
"We must prioritize the well-being of our MUPs and retirees who have dedicated their lives to serving our country. It is our duty to ensure that they are given the care and support they deserve. I am committed to working with Chief PNP Acorda and other stakeholders to provide our MUPs and retirees the decent life they so rightfully deserve," he said.
Quoting the House Speaker, Acorda said Romualdez promised that consultations would continue as Congress tries to find a "win-win" solution on the MUP pension fund issue.
"I was assured by the good Speaker that we will continue to coordinate and get updates while the matter is being discussed. We both agreed that out-of-the-box solutions should be explored as we collectively attempt to find a lasting remedy anchored on compassion and that it will be sensitive to the sentiments of the uniformed personnel," he added.
In the same meeting, Acorda said he briefed Romualdez about the PNP's security preparations for the President's second State of the Nation Address (SONA) on July 24.
Also discussed during the meeting was the proposed annual budget of the PNP in 2024, which Acorda said Romualdez pledged to support. (PNA)