PDEA holds training on use of body cameras, drones
Friday, May 18th, 2018. Filed under:
News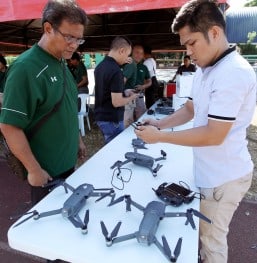 MANILA, May 10, 2018 – To boost its operations capability in line with the government's anti-illegal drugs drive, Philippine Drug Enforcement Agency (PDEA) agents underwent training and familiarization on the use of its newly-procured body cameras, digital forensic equipment, handheld radios and drones.
The training, which runs from May 7 to 11, was attended by PDEA Regional Chief of Operations, Regional Intelligence Officers, personnel of the Special Enforcement Services and Intelligence and Investigation Service of the national headquarters.
The PDEA recently procured 100 units of camera, 86 units of digital forensic equipment, 166 units of handheld radios and 20 units of drones.
The week-long training aims to develop a high level competence of PDEA operating units with experts from Civil Aviation Authority of the Philippines (CAAP) conducting basic drone pilot handling operation.
The CAAP will then issue a license to operate the remote-controlled aircraft/ drone making PDEA the first national government agency to produce CAAP-certified drone controllers.
PDEA Director General Aaron Aquino has prioritized the training so that the equipment will be immediately distributed to the regional offices and concerned units of the agency to strengthen their anti-drug operations.
"This equipment will enhance the operational capability of PDEA and our agents who serve as front liners in fighting the drug problem in our country," Aquino said in a statement. (PNA)