By Raymond Carl Dela Cruz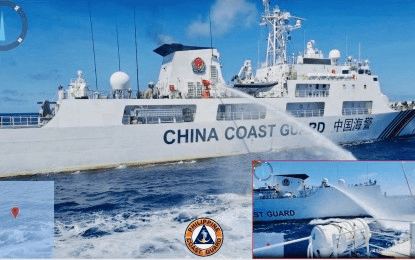 MANILA – An official of the Philippine Coast Guard (PCG) has urged Filipinos to unite in protecting the nation's interests and call out China's aggressive and illegal actions in the West Philippine Sea (WPS) in the wake of the recent incident at the Ayungin Shoal.
Over Twitter on Thursday, PCG spokesperson for the WPS Commodore Jay Tarriela said it is "important to show loyalty to country" given the current situation, after Chinese ships used water cannons and repeatedly blocked Philippine vessels during a resupply mission in Ayungin Shoal.
"If you are a Filipino, whether in government or private sector, regardless of your politics, defending and making excuses for China's aggressive behavior should deem you unpatriotic, and a traitor to the Philippines and to our people," Tarriela said.
"While I recognize freedom of speech as an important right guaranteed by our constitution, it should not be misused as a means to justify unpatriotic actions by acting as China's mouthpiece," he said.
He noted that Ayungin Shoal and the WPS in general are part of the country's territory.
"Together, we should stand united in protecting our nation's interests and pursuing a peaceful resolution to the issues," he said. "Dahil sa WPS ang yaman nito ay para sa Pilipino! (Because the natural resources in the WPS are for Filipinos!)."
Last Aug. 5, two PCG vessels were escorting two indigenous boats chartered by the Armed Forces of the Philippines to resupply BRP Sierra Madre in Ayungin Shoal when they encountered six China Coast Guard vessels, 12 maritime militia vessels and three People's Liberation Army – Navy (PLA-N) vessels.
During the encounter, the Chinese ships separated the PCG vessels and the supply boats using water cannons and through dangerous blocking maneuvers, resulting in one supply boat reaching BRP Sierra Madre while the other was forced to retreat. (PNA)