By Ruth Abbey Gita-Carlos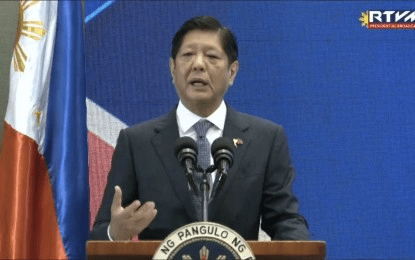 MANILA – The Philippines secured about US$235 million worth of investment pledges from Malaysia's business sector, President Ferdinand R. Marcos Jr. said Thursday.
"The investment commitments that we have received thus far are valued at around US$235 million, which is a good indication that there is a strong interest from Malaysia to invest in the Philippines," Marcos said at the Philippine Business Forum in Kuala Lumpur.
Marcos expressed elation over the "very interesting" engagements with Malaysian companies and business leaders which could provide mutual benefit outcomes for the private sector from both countries.
"At present, Malaysian investments already provide a valuable contribution to the Philippines and its economic development, particularly in terms of the administration's food security, in terms of infrastructure development, job generation for our Filipinos," said Marcos, who is in Malaysia for a state visit.
"It's time that with the new transformation, this provides many new opportunities and that will give us the chance to increase that level of trade that we have been achieving over the past many years," he added.
Marcos assured the Malaysian business community that the Philippines is showing "healthy signs of recovery" from the economic downturn brought about by the pandemic.
Despite the recent global challenges, Marcos noted that the Philippines posted a 7.6 percent economic growth in 2022, making the country one of the best-performing economies in the region.
Marcos added that the Philippines outperformed its peers in the region by posting the highest economic growth of 6.4 percent in the first quarter of 2023.
He said the Philippines has key landmark legislations to further liberalize businesses; a corporate tax system that is "more business-friendly"; and green lanes for strategic investments.
He also guaranteed that his administration would push for the enactment of new laws that are "more attuned to the times that we are living" and leverage the country's active participation in a multilateral platform to sustain and promote its economic agenda.
"The country has been open and transparent and the discussions that we have is not simply for us to explain to our prospective partners what is happening and what we are planning to do in the Philippines but also to listen to all of you and to hear what are in your view are the necessary changes and the elements that we have to put together so as to make the Philippines a more attractive investment destination," Marcos said.
"The country has come up with the development plan which centers on partnerships. One of the central elements of the economic policy that we have rolled out is the importance that we have put in the partnerships with the private sector," he added.
Marcos also bragged about the Philippines' "key asset," which is a "deep pool of human capital."
"They are highly skilled and educated, talented, dedicated to take on various roles in different sectors," he said. "They are well trained. They are used to working with foreign entities such as foreign corporations even government and have gained this cosmopolitan experience to the advantage for our dealings with our foreign partners."
Marcos hoped that the two nations would explore the immense potential to achieve breakthrough growth and greater productivity, higher savings rate and increased creativity.
"I look forward to the Malaysian business community coming to the Philippines and working together with the Filipino counterparts," Marcos said.
Malaysia is ranked as the Philippines' 10th trading partner and 22nd source of approved investments in 2022.
It also ranks 20th in terms of source of tourist arrivals in 2023.
Cattle breeding
In a statement, Communications Secretary Cheloy Garafil said Malaysian dairy firm Farm Fresh Berhad is working with the Philippine government for its planned investment of US$20 million for cattle breeding intended for milk production.
Garafil said Farm Fresh is currently looking for a viable area with a land requirement of 200 to 400 hectares of contiguous farmland to lease to raise 2,000 milking cows.
"Batangas and Laguna (specifically, the University of Philippines-Los Baños campus in Famy) are the target locations, according to its officials. With US$20-million investment, Farm Fresh eyes to commence its operations by 2028 with an estimated employment of 200 local workers," she said.
"The company's farm facility for milking cows is part of its new projects in the Philippines. It also has an ongoing construction of 6,000 sqm. dairy processing facility in San Simon, Pampanga, also intended for fresh milk production. The US$5-million facility is slated to be operational this year, with an estimated employment of 50 local workers," Garafil added.
Garafil noted that Farm Fresh's investment will set up processing facilities for imported milk ingredients from Kyabram facility (Australia) and will focus on the chilled ready-to-drink market initially in Metro Manila.
A fully vertically integrated dairy producer operating across Malaysia and Australia, the company is currently in the process of registering with the Board of Investment. Its Philippine subsidiary is Farm Fresh Milk Inc.
Farm Fresh operates five dairy farms in Malaysia and one in Australia. It also maintains two processing facilities in Malaysia and one in Australia.
With 10,309 dairy cows and bulls, Farm Fresh has so far sold 78.6 million liters of finished products. (PNA)