By Ruth Abbey Gita-Carlos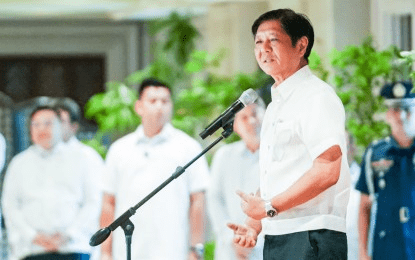 MANILA – President Ferdinand R. Marcos Jr. has emphasized the need to implement safeguards in the planned online procurement system for government agencies.
In a sectoral meeting held at Malacañan Palace in Manila on Tuesday, Marcos cited the potential issues that need to be taken into consideration to ensure the efficiency of digital procurement.
One of the challenges raised by the President was the possible overpricing of products and equipment that will be procured through the online platform.
He said the accreditation of suppliers is necessary to manage procurement issues.
"There will still be an element of accreditation because we cannot just open the market to anything…. (What if) you buy something, you get nothing. A box with nothing inside. 'Yung ganoon (Such as that)," Marcos said, as quoted by the Presidential Communications Office in a news release on Wednesday.
"So, to safeguard against that, kailangan accredited 'yung kausap natin (the supplier must be accredited)."
During the sectoral meeting, Socioeconomic Planning Secretary and National Economic and Development Authority (NEDA) Director General Arsenio Balisacan told Marcos about the difficulty in calculating product pricing.
Balisacan noted that if goods are quite heterogenous, not homogeneous, the price differences could reflect quality differences.
"We know that… goods that might be overpriced. There are already some exploitation of market power by preventing competitors from coming in," he said.
The Procurement Service – Department of Budget and Management (PS-DBM) will pilot an e-Marketplace under the Philippine Government Electronic Procurement System (PhilGEPS) for government procurement of motor vehicles.
PhilGEPS is the electronic commerce service owned and operated by the PS-DBM, serving as the central portal for all procurement information and activities of the government.
In a Palace press briefing on Tuesday, PS-DBM executive director Dennis Santiago said there would be a threshold limit for a procuring entity making a purchase through the e-Marketplace.
Santiago said any government entity could buy through e-Marketplace, so long as they comply with the conditions set by the DBM, including the threshold amount for motor vehicle procurement and the technical requirement.
Budget Secretary Amenah Pangandaman, during the sectoral meeting, also presented to Marcos the proposed amendments to Republic Act 9184 or the Government Procurement Reform Act (GPRA).
The consolidation of amendments to the GRPA is expected to be completed within two weeks, Pangandaman said. (PNA)