By Ruth Abbey Gita-Carlos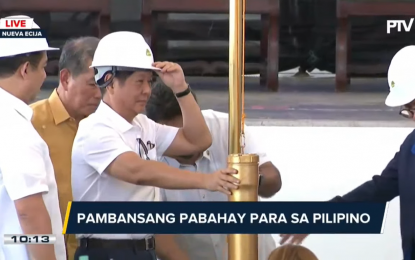 MANILA – President Ferdinand R. Marcos Jr. on Wednesday assured the public that he will exhaust all efforts to live up to his promise of building at least 1 million low-cost housing units every year.
Marcos made the commitment during the groundbreaking of the Palayan City Township Housing Project in Nueva Ecija, as he pledged to help the homeless and the minimum wage earners whose dream is to own a home.
"I am glad that we are continuing. This is not the first groundbreaking that I have attended. I know that it will not be the last, and that we will continue to break ground in different parts around the country para naman 'yung ating pinapangarap na (to achieve our goal of building) 1 million homes a year," he said.
"'Pagka naabot natin, at least napakalaking bagay na 'yan na nabigyan natin ng solusyon ang problema ng pabahay ng ating mga kababayan (That would be a big help if we are able to fulfill our goal of providing a solution to the housing problem faced by our fellow countrymen)," Marcos added.
Marcos thanked the Department of Human Settlements and Urban Development (DHSUD), as well as the local government units (LGUs), for their role in the implementation of the Pambansang Pabahay Para sa Pilipino Program.
He also expressed confidence in the success of the housing projects.
"All of these things have to come together. It is not a question. Marami na tayong experience (We already have an experience)," Marcos said. "I hope that we'll continue at this rate, at kailangan na kailangan nating gawin ito (and we have to do this). This is one of the many actually that we are going to break ground and I hope soon."
In November this year, Marcos pledged to build at least 1 million houses every year, as part of his administration's effort to address the housing backlog in the country.
The Pambansang Pabahay Para sa Pilipino Program is a flagship housing project of the Marcos administration which aims to provide around 6 million Filipino beneficiaries safe, affordable and comfortable homes.
A memorandum of agreement was signed between the DHSUD and government financial institutions to fund the department's housing projects.
Once completed, the community township in Palayan City, Nueva Ecija will give rise to 44 towers that can accommodate 11,000 housing units.
The housing project will also feature several amenities and infrastructures, including a market area, livelihood center, health center and elementary school.
The project is expected to generate around 1.7 million jobs every year from 2023 to 2028.
Meanwhile, House Speaker Martin Romualdez lauded President Marcos Jr.'s inauguration of the 11,000 housing units under his administration's flagship Pambansang Pabahay para sa Pilipino Program in Barangay Atate in Palayan City, Nueva Ecija.
"Building 6 million houses is the target of President Marcos Jr., I am very confident we can achieve this through our unity in purpose and the cooperation of all stakeholders in the program," said Romualdez, who accompanied the President during the event.
He said the 6 million houses may be just another target to accomplish, but imagine giving 6 million families houses they can call their own.
That is not only addressing the housing backlog, it is also realizing the dreams of millions of Filipinos who yearn for a house they can call their own, Romualdez added, saying this will go a long way in addressing the housing backlog in the country.
"President Marcos is addressing the country's woes on all fronts almost simultaneously: food security, foreign investments, jobs and livelihood, public order and safety, health and social protection, and now social services like housing," he said.
"We in Congress will do everything to support our President in all of his programs because we also believe that if we work as one, we can achieve even the greatest of ambitions. This is how we move forward, this is how we move mountains," he added. (With reports from Zaldy de Loyola/PNA)